The Petit Family Foundation Women in Science Leadership Award recognizes a woman working in STEM who is a leader in her field, makes a significant effort to support other women, and encourage girls' interests in STEM. The honoree is selected by the Connecticut Science Center's Women in Science steering committee and is traditionally celebrated at our annual STEM Awards Breakfast, presented by Stanley Black & Decker, each spring.
This year, we're pleased to highlight some of the nominees for the 2020 STEM Achievement Awards and the Petit Family Foundation Women in Science Leadership Award in a series of personal and inspiring recorded conversations. We hope that you enjoy getting to know the 2020 class of nominees who embody the spirit of the Connecticut Science Center and our passion to inspire the next generation of STEM professionals.
We are pleased to celebrate nominee Nicole Feeney who is a respected leader and mentor among her colleagues. Nicole shares with us her passion for equity through technology and how she was inspired as a Special Education teacher to pursue her passion to empower people with disabilities through assistive technology. Feeney is also a member of the 2018 class of the HBJ 40 under 40.
NICOLE FEENEY

As the Director of Assistive Technology Services at the NEAT Center at Oak Hill,  Nicole Feeney oversees the provision of technology to individuals with disabilities of all ages through The NEAT (New England Assistive Technology) Center's innovative services. She leads a team of skilled professionals conducting assessments and training across the continuum of assistive technology. Presenting at local and national conferences offers her the opportunity to promote community awareness and share unique and powerful benefits in using technology to support education, employment, independent living, and community needs. 
Nicole Feeney has hired and mentored four women at The NEAT Center. A respected leader, she actively encourages their growth within the agency. As a mentor, it is said that she has a gift for playing to individual strengths, whether encouraging them to speak at conferences across the region, or grooming and promoting from within to run their own department. Nicole has a deep understanding of the unique challenges that women face in the field, and she navigates those challenges calmly and effectively, bringing other women along with her. An avid athlete, she is a basketball coach for a girls basketball team in her spare time.
Interview With Nicole Feeney
Amy Sailor: What inspired you to pursue a STEM Career?
Nicole Feeney: My inspiration developed organically and was not always my intended goal, but rather stars aligning and leading me down a path. I started my professional career as a Special Education Teacher and was always inspired by my students. Every day, they worked through tremendous areas of difficulties, whether it be learning, communication, mobility, social interactions, and more. Still, they smiled and tried their best.  Day after day, I would try to find ways to modify their work and adapt the environment in such a way that promotes access to meaningful learning.  While receiving my Master's degree in Special Education (with a concentration in Assistive Technology), it became apparent to me that assistive technology would be my passion.  Though my school did not see the future of technology, I became relentless with the introduction of assistive technology to my students.  Over time, I saw their motivation increase, academic attention lengthen, and their productivity soar.  Assistive technology allowed my students to eliminate barriers and utilize their strengths to reach their potential as individual students. I quickly realized that technology would be my life long journey.  I truly wanted to educate as many people as I could on its incredible impact for those with disabilities, both high and low incidence.
AS: What do you feel is the most important aspect when working as a team? Any experiences in particular?
NF: Teamwork is a critical component of the work we do in assistive technology.  Technology changes so rapidly and is an ever growing field; no one person can have all the answers.  My role in special education showed me the importance of working with many different professionals. It was always important to me to ask questions and listen to all perspectives because the students we were working with had such complex needs.  It was never just a simple and straightforward approach. It required teamwork and flexibility. For example, a student with handwriting issues may be viewed as "un-motivated" in a regular education classroom, but when discussing this with an occupational therapist, you would learn about graphomotor disabilities and use that information to make modifications to their work.  Here, I would see a prime opportunity to integrate technology into this child's life and allow them to participate in the academic lesson, as opposed to struggle through the assignment.
At The NEAT Center at Oak Hill, I encourage a team approach to everything we do.  Myself and all of our assistive technology specialists are very knowledgeable about the continuum of assistive technology. However, we focus on our area of specialty and then collaborate as we are faced with a student or individual with multiple needs. This happens more often than not, and we truly enjoy the collaboration of ideas.  The people we serve deserve to be looked at as a "whole" person and have every aspect of their skills, strengths, and needs considered when determining how technology can improve their lives. 
Last year, we worked with a student with Muscular Dystrophy who was aging out of his school system and wanted to find more independence at home and in the community. He wanted to seek employment opportunities.  His struggles were communication and mobility.  In collaboration with our Smart Tech Specialist and AAC Specialist (Augmentative Alternative Communication) and my strengths in assistive technology, we were able to spend a great deal of time closely assessing his environment, listening to his wants, and helping the family identify possibilities.  Ultimately resulting in recommendations for a mobile device that he could access with a capability switch (a button controlled by his head movements) to participate in school and work activities. In addition, he was recommended a communication device controlled by eye gaze, that also allowed him to control his home environment (i.e., bedroom and house lights, Amazon Echo, his TV and the garage door). So many of these types of collaborations allow me to appreciate my team and their great knowledge but also to share mine so that we can give an individual what they deserve: independence, success, social connections, etc. 
AS: How does your work with the disabled directly shape your role in society? For example; working in the schools, teaching and sitting in on panels?   
NF: I can honestly say I'm always looking to advocate for someone's needs or their rights under the law.  But also, just basic human rights. This is especially accurate when I hear from students, teachers, or parents that are having difficulty getting the technology they need.  It usually stems from a lack of awareness regarding assistive technology or the many types of assistive technology tools available.  Though the term "assistive technology" has become more common over the past few years, we are still working hard to make sure that assistive technology is all around us.  That it doesn't have to be expensive, difficult, or inconvenient. If anything, it should integrate, create supported environments, and allow individuals to be more successful, without as much intervention from others. In the end, it makes it more affordable. For example, allowing an individual with disabilities to live independently with technology supports in place to help with reminders, pill dispensing, stove top that automatically shuts off when the pot is removed. This may allow a family to save money because they could pay a support staff twice a week to check-in with the individual instead of them being available all day, every day.
Professional development opportunities, college courses, national conferences, and panels are a welcomed invitation to me.  I love to engage an audience with facts about assistive technology, but, most importantly, the many case studies that show a drastic impact in the lives of specific people. The audience can typically identify with a case study because they know someone with similar needs, allowing them to relate to the situation and make meaningful connections about the potentials for the people they serve.  I prefer Q&A situations, where I might effectively provide an assistive technology suggestion for a person to try right away or provide a resource to help them start their own learning journey.
I could go on forever about how this has changed me, but lastly I will say that nothing is more important to me than being in a classroom, working with a student.  My inspiration is endless, especially when a student smiles after trying an assistive technology tool that has allowed them to do something they couldn't do before.  For example, I recently did an assistive technology evaluation on a student who is medically fragile and has some physical needs. Though he can hold a pencil, it is extremely fatiguing and the paper-based assignments he is given does not allow enough room for him to write.  Although he is very intelligent, his work is modified so that he only completes 1 or 2 items on a worksheet.  This student now completes the same assignment as his peers but through the use of his technology.  He uses an iPad and app to take a picture of the document and then uses an Apple Pencil, word prediction and a keyboard to complete all of his assignments.  Every student should have the opportunity to complete their school work, with dignity and independence, as well as reach their full potential.
AS: What drives you to use the Universal Design approach and why?
NF: It is a better and more inclusive world when we surround ourselves with technology in a universal design approach.  The more people who can participate in the work and in the conversation, the more perspective we have, hopefully allowing us to make smarter decisions. I'll give a good example of a time when universal design is often overlooked but could make such a critical difference. You attend a presentation or large meeting, there is a microphone but the presenter says "I'd rather just talk loud" or "You can hear me, right?"  It is not often that the one person (or more) with hearing concerns is going to raise their hand after the presenter has made it perfectly clear that they don't want to use the microphone, in front of a room full of people and make that request. So this person will sit in the room and miss half of the meeting because they are trying extra hard to hear, view the presentation slides, and hope they can read your lips.  If the presenter could just move beyond their discomfort, they would understand that the microphone could benefit each individual in the room, including those with hearing impairments.  It allows everyone to hear more clearly without the presenter shouting past the front row.  Those with executive functioning, auditory processing, and attentional needs are considered invisible disabilities, where a microphone could be a great benefit to their understanding of the content.  The key is that we never know who is sitting in the audience and how the use of technology might truly help them.  By turning on that microphone, you're effectively using universal design and engaging as many people as you can – with no extra work or effort.
I try my best to educate people about the inclusive nature of universal design and the process of using that mindset from the beginning of a project, whether that is the creation of technology itself (i.e. video game accessibility) or how we integrate technology into our environments (i.e. learning, work, community, etc.)
AS: Tell us a little bit about the projects you're working on? 
NF: We currently have a great deal of projects that we are working on, and often do. Especially, as our work is directly affected by the rapid changes in technology and disability services. Below you will find a few examples of current projects.
Augmentative Alternative Communication (AAC) is a service we provide to those who struggle with communication.  We help people discover the potential for technologies that can empower them and give them a voice, typically by trialing several methods of communication technology.  We are currently introducing Tele-AAC; a provision of traditional AAC services using a virtual delivery model in lieu of in-person support.  Our hope is to serve more people and educate more Speech and Language Pathologists about the framework for assessing one's communication needs and applying best practice to the decision-making process. 
Our Smart Home on Wheels is a tiny home that can travel to different locations and is outfitted with the latest in technology trends but also the assistive technology supports we find most beneficial for those who have disabilities or are aging in place. It is our goal to help people live in or remain in their home, with dignity and independence.  We have open houses on our campus but we also travel to locations and conferences, facilitating demonstrations of a vast selection of smart tech and educating people about how to incorporate these tools into their lives and the lives of their loved ones.  This spring, we were invited to conferences and events in Tampa, FL. and Washington D.C. We were excited to share our ideas, strategies, and knowledge with others from different parts of the country.  While those have been postponed due to COVID-19, they have been rescheduled and our intention is to be there as soon as it is safe to do so.  For now, we are working on an update to our virtual tour.  Virtual Smart Home Assessments continue to be conducted as we try our best during this world-wide pandemic to keep this population socially connected, with opportunities for tele-health.
Our Gaming Accessibility services are being sought after from people across the country.  We work with individuals, both in-person and virtually, to help them find ways to make the gaming world more accessible.  Sometimes it is just educating them about the accessibility features that are built into games that can allow them to participate with more ease (i.e., blind, hearing impaired, physical disability), other times we can create a 3D printed tool and attach it to their game controller for better physical access. We love helping individuals take part in the world around them including leisurely activities.  If games were created with a universal design mindset from the beginning, then they would be much easier for those with disabilities to enjoy.
The CT Bureau of Special Education has contracted with us to deliver a unique service model for assistive technology services to school districts throughout Connecticut.  We conduct assistive technology consultations and evaluations as well as professional development opportunities for these districts and their teachers.  Our hope is to help them make informed decisions about assistive technology and use technology standards with fidelity and confidence.   
AS: How has the current situation impacted your work? If impacted, how do you plan on adapting to this new lifestyle? 
NF: Our services have always considered the use of technology to conduct them both in-person and virtually. The transition to distance working and learning is something we are currently familiar with and confident in. We find our role in the community now to be one of helping other programs, agencies, and schools learn how to incorporate technology into their daily lives.  We have tripled our webinar offerings and provided them free to everyone.  We've also opened a hotline for people to reach out to when they are struggling with distance learning or serving the needs of their students with disabilities.  It gives us the opportunity to teach with technology about assistive technology.  We hope that our skills and experience can improve the lives of others now and in the future.  We are always ready to adapt to new lifestyles and environments, that is essentially what makes us assistive technology specialists.  It is our nature to troubleshoot, develop and change with the times.
AS: Do you have anything else you would like the audience to know? 
NF: I am a mother of twin girls in middle school and married to a 3rd grade teacher.  We joke about starting a dinner time podcast about assistive technology.  We have incorporated technology into our daily lives and have full discussions about creative uses and new, innovative ways of doing things. I truly want my children to do what makes them happy in the future, but I also want to make sure that their knowledge about assistive technology and its impact on those with disabilities will encourage them to do work that inspires others and creates a better, more inclusive world.
Stay connected! Be sure to subscribe to Down to a Science— The Official Blog of the Connecticut Science Center and follow us on social media.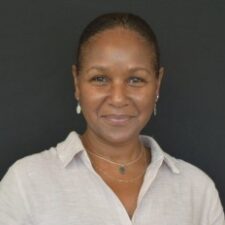 Amy Sailor serves as the Advancement Program Manager for the Connecticut Science Center. In this role, she stewards the 14 members Steering Committee of the Women in Science Initiative. Amy also implements a suite of programs and events that bring attention to the accomplishments of women in the sciences and introduces girls and young women to STEM fields of study and career paths.