Today, we join the world in celebrating International Women's Day, which aims to spread the message of gender equality, while working together to make the world more diverse, equitable and inclusive for women. At the Science Center we are excited to honor the day by highlighting women in Connecticut who are making a difference in STEM-based careers. While women have made extraordinary progress in science, technology, engineering, and mathematics disciplines, they are still under-represented in these fields. To encourage and inspire young girls, it's important for them to see and hear real examples of women working in STEM.
Laurie Chipperfield, Senior Director, Chemical Research & Development at Pfizer was one of 11 Connecticut STEM leaders recognized for their achievement in Science, Technology, Engineering and Mathematics (STEM) at the 17th annual Women of Innovation® awards, presented in a virtual ceremony by the Connecticut Technology Council (CTC) and Connecticut Center for Advanced Technology (CCAT) last fall.  Most recently, she led a talented group of experts to develop environmentally sustainable and efficient ways to manufacture lipids, an important ingredient in the Pfizer-BioNTech COVID-19 Vaccine, also known as Comirnaty®.
"These lipids help stabilize and deliver the mRNA to the body's cells. Our scientific teams in organic synthesis chemistry & engineering, analytical chemistry, and chemical manufacturing are based at our Worldwide Research & Development site in Groton, Connecticut," says Chipperfield, who's worked with Pfizer for 33 years. "It was the most rewarding project in our careers to be able to positively impact the lives of people globally."
For Chipperfield, it all started with a great group of science teachers at Stonington High School, and a natural curiosity in how things work, which led her to explore engineering as a potential career path. She also says that she's a practical person and liked the fact that a chemical engineering degree could lead to a variety of careers. With that said, she also thought about studying medicine or international relations.
"I wasn't sure exactly what career I wanted to pursue, which I think is very typical for that age group," continues Chipperfield.  "My time at Northeastern University helped to sharpen my career plan via two years of relevant scientific work experiences within the academic program. I have had many opportunities to match science with business (MBA) and travel and interact with many cultures around the world."
Dr. Anna Marie LaChance, a chemical engineer and STEM educator, was also a 2021 Women of Innovation® Awards finalist. The first openly transgender person to receive the award in the program's 17-year history, she's paving the way for both cisgender women and transgender women. She attended UConn as an undergrad and received a Bachelor's in Chemical Engineering with a minor in both Mathematics and Materials Science & Engineering. She went into higher education to research environmentally-sound polymeric materials (or plastics) for food packaging and to pursue her goals of becoming a professor.
"I'd like to think that I'm opening doors for people, or at least trying to," says LaChance, currently serving as a graduate assistant for UConn's School of Engineering's Vergnano Institute for Inclusion, which is dedicated to increasing the number of underrepresented students in engineering and other STEM fields. In September, she will be a faculty member and lecturer in Chemical Engineering at the University of Massachusetts at Amherst.
LaChance was fortunate to have great chemistry teachers and engineering mentors in high school. She also enjoyed participating in a robotics competition. While attending graduate school, she fell in love with not just the projects, but teaching and mentoring students.
"It's not just having the science classes but having female mentors to look up to. All people to look up to. Black women. Transgender women," says LaChance. "Also, not a lot of young people know what chemical engineering is. It's important to offer programs so that they can get to know what engineers do. What do chemical engineers do? What do electrical engineers do?"
Vergnano Institute for Inclusion has a suite of programs for K-12 students or marginalized backgrounds to get involved with Engineering. https://inclusion.engr.uconn.edu/
Another remarkable and trailblazing woman is Christine Finck, MD, FACS, who is Connecticut Children's first woman surgeon-in-chief and one of six women surgeon-in-chiefs at 45 children's hospitals across the country. While at Children's she started the Pediatric Surgery Fellowship and set up a tissue engineering lab at the University of Connecticut, where she's currently trying to bioengineer organs for what kids may be born without.
As a resident, she says that Dr. Patricia Numann, who became one of the first women to be the president of the American College of Surgeons, was a strong mentor. Today, less than 20 percent of surgical disciplines have women, she notes, and back at that time, it was even less.
"Having someone like her at the helm made you realize that you could do it. You could make a difference and be tough. She definitely was somebody who I aspired to be like," says Finck, who has been with Connecticut Children's since 2007. "I also looked up to my mother, who was a teacher and worked super hard and took great care of her students and her children. When I started my residency, they weren't all women, but I respected and admired the people that worked really, really hard and gave all to their work. My path was to work hard and love what I do."
Finck says that there are a lot of initiatives now encouraging women to come into STEM-type professions and there are always opportunities at the University of Connecticut and her lab to explore science and math.
"Believe in what you can do because you can do it, and work hard," she says to women. "The culture is shifting. There are a lot of opportunities out there, but you've got to take that first step."
We celebrate all of the women who have pioneered for the next generation of inventors, doctors, scientists and more. Be sure to check out all of the Women in Science profiles on our blog.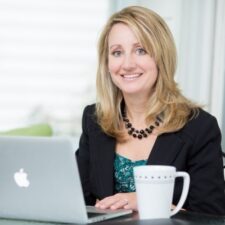 Jennifer Carmichael is a Contributing Writer at the Connecticut Science Center with a degree in Journalism from the University of Rhode Island. She's written on lifestyle topics for magazines and newspapers throughout the state.  A mom of two teenagers, she can't promise that parenting is a breeze, but she can offer easy tips, tricks, and advice on all things about the Science Center.