Are you inundated yet? Have you gotten more resources than you know what to do with for socially distant in-person teaching, hybrid teaching, or fully online teaching? Are you on your kitchen floor eating ice cream from the carton as you think about the year to come? If so, we get it!
As we move unceasingly into an uncertain future, as we develop back-up plans and back-up plans to the back-up plans for our instruction, do not fear. We will do what educators have always done. We will talk to our friends. We see what our school, our district, and the state are offering to help. We will try new things. We will see how it works out and make adjustments going forward. Monitoring and adjusting is our super power!
Chances are, your school or district have already provided you with some guidance about platforms, apps, protocols, organizers, and other resources to support distance learning whether that is happening full or part time. If not, take a look at some other districts! For example, two of the largest districts in Connecticut, Hartford and New Haven, both have distance learning pages that are publicly accessible. There are resources from the Connecticut State Department of Education if you haven't found those yet. If that's not enough, here is another collection of resources that includes ideas for socially just topics of study around COVID. And check out other blogs and videos right here in the Mandell section of the Connecticut Science Center's blog. We offer advice about focusing on discourse even at a distance, increasing science literacy at home, the importance of norms and routines for all of our learning models, a parent's perspective on learning at home, as well as general planning guidelines to keep in mind as community health and education shift. We're adding more all the time!
So now what?
We want to help by offering a new perspective for this school year.
Everyone, of any age or role, is still stressed, with good reason. It's fourth down and ten. It's climbing Mount Everest. It's diving 30 meters into the ocean. It's balancing on a tightrope. It's a wildfire only just under control. This year is going to be tough. No way around that.
And we are here to be your cheer team.
That means, we want to remind you not to forget the self-care that everyone was advocating last spring. That's still important. We also fully support you sacrificing some learning time to attend to the added social and emotional needs of your classroom. Plan ice breakers to get kids used to speaking in Zoom and Google Meet and make liberal use of the chat box or hand signals to keep engagement up. Set aside time to check in with feelings and concerns. Lastly, our new perspective is this – we want to encourage you to set a goal for yourself about how your practice can be better this year BECAUSE of COVID.
Yup, we said that. There are ways that teaching can actually get better this year. What that will look like depends on your unique situation. Check out this inspirational story from an elementary school teacher turned associate professor. Here are some other educational shifts that you could mine for ideas. And here are some more folks who are embracing online learning and what it can promote really well.
What will be your focus for getting better this year? What of the many, many ideas you've heard recently feels like a good fit? Don't think of our suggestion as one. more. thing. Think of it as a beacon, a touchstone, a compass. When things are overwhelming, return to your own goal. When you feel successful, return to your goal. When you have a spare second (stop laughing!), return to your goal.
Why? To set yourself up for success. No matter what. We want you to finish this year healthy, confident, and successful. To do that, you need to start with a goal. We believe in you!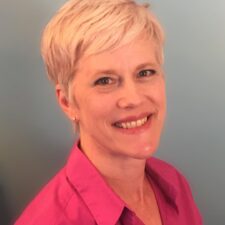 Gail Mitchell Emilsson is a Professional Learning  Specialist at the Connecticut Science Center's Mandell Academy for Teachers. Previously, she worked in pharmaceutical research and as a high school science teacher in high need schools. Gail's professional interests include supporting educators in creating meaningful and equitable science learning experiences. Gail joins the rest of the Mandell team in designing and providing immersive professional learning and coaching in districts.