Dr. Ainissa Ramirez grew up in Jersey City, New Jersey, and had a passion for science at a young age.  While she enjoyed learning about science in those early years, she found the way science was taught in college to be very boring.  She struggled with her science education until one professor profoundly changed her view.   She discovered a subject that "returned (her) wonder" when Professor L. Ben Freund at Brown University said "The reason why we don't fall through the floor, the reason why my sweater is blue, and the reason why the lights work is because of the way that atoms interact with each other."  After getting her Master's and PhD in Material Sciences at Stamford University, she has joyfully studied this juxtaposition of chemistry and physics for decades.
After she graduated, Dr. Ramirez vowed that she would do whatever she could to ensure that no student "suffered through science that way".  She felt her unique voice, that of a black woman scientist, needed to be heard in order to inspire minorities to understand that they could do science too. Dr. Ramirez took inspiration from Nobel prize winner Toni Morrison's quote "If there is a book that you want to read but it hasn't been written yet, you must write it".  She describes writing The Alchemy of Us: How Humans and Matter Transformed One Another as a transformative experience, one that has given her words to express her vision of how inventors have shortcomings just like everyone else, but that they have overcome these obstacles and succeeded.
It is this fascination with the people who use science to understand and create things that makes this book a captivating read. Dr. Ramirez not only tells the history of the creation of the invention, but also focuses on how the inventors and scientists of the objects that changed the world aren't much different from ordinary people. She shares tales of how steel stitched the country together and manufactured culture, how the invention of the telephone inevitably led to the existence of computers and the new way we interact with the world, and so much more. Her message – anyone can do science and they should – resonates with the audience and makes the science personal.  
With whimsy, Dr. Ramirez offers little known tales of how common objects came to be in our house and surroundings, bringing to life the tales of trial and error.  What at first seems like a simple explanation of how a clock works expands into a dissertation into the world of sleep, rare quartz, and Albert Einstein.  She explores how a horserace led to the invention of a better camera, and how our need to see in the night has prevented us from seeing the night sky.  More than a chronicle of things, these stories are elaborate delvings into the sociology and personal history of materials science and its use by inventors throughout history.
Continuing with her mission to embolden ordinary people to do science, Dr. Ramirez preaches her message that in order to make great scientists, we need great science teachers, more diversity in science, and better science in entertainment to inspire people. "Discussions about technology must be inclusive, because technology is neither just for the few who are learned, nor is it just for men who are of European descent."  Dr. Ramirez is adamant that "Everyone has an admission ticket to create" and you can have an admission ticket to see Ramirez discuss her book and scientific empowerment by visiting CTScienceCenter.org for tickets to the Connecticut Science Center's Straight Talk Virtual Event on Thursday, November 12, 6PM (Ages 21+). 
The Alchemy of Us is recommended for ages 16+.
If you are looking to purchase The Alchemy of Us: Did you know that Amazon could help support the Connecticut Science Center's mission every time you purchase through AmazonSmile? All you have to do is visit smile.amazon.com and activate the Connecticut Science Center on your profile.
Resources
Ramirez, A. (2020). The Alchemy of Us: How Humans and Matter Transformed One Another. Cambridge, Mass.: The MIT Press.
Science Friday. (2020, April 24). How An Undertaker Helped Develop Computers, And Other Untold Stories. (C. Taylor, Producer) Retrieved September 28, 2020, from Science Friday: https://www.sciencefriday.com/segments/alchemy-of-us-book/
TEDx Talks. (2014, Apr 16). Where arts and science meet: Ainissa Ramirez at TEDxBroadway. Retrieved September 28, 2020, from YouTube: https://www.youtube.com/watch?v=PJAqUdgoGoI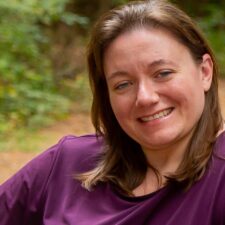 Jennifer Kirkland is an MBA candidate at George Washington School of Business, concentrating in healthcare.  She has a passion for science policy and advocacy and strives to help translate business into science and science into business.  Having a master's degree in Biology and decades of research experience, she understands how research works. She is the Development intern at the Connecticut Science Center, a wife, a mom, and a curious questioner.