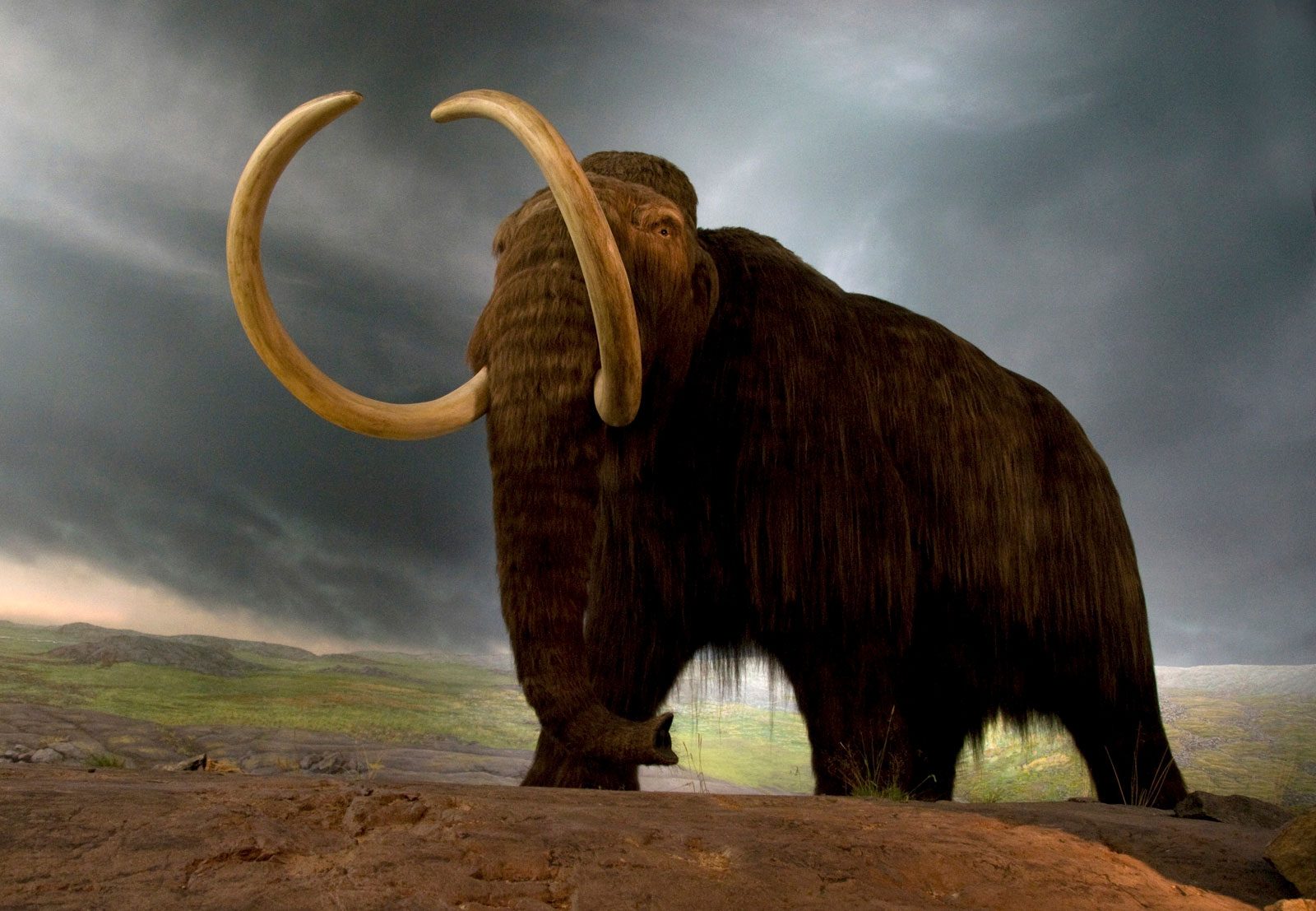 Imagine for a moment with me.  You're walking along and see a majestic creature that has stepped out of the past.  Standing 13 feet tall and weighing in at 6 tons, it is unlike anything you have ever seen.  Covered in a thick coat of hair, some strands even 3 feet long, this creature was built to withstand some of the most inhospitable places on our planet.  As the animal turns to face you, its gargantuan tusks become visible.  Can you guess what it is?  The unforgettable Woolly Mammoth.  When you imagine this, are you imagining the past?  What if I told you it could be a view of the future?  It sounds unbelievable, but it may be more plausible than we once thought.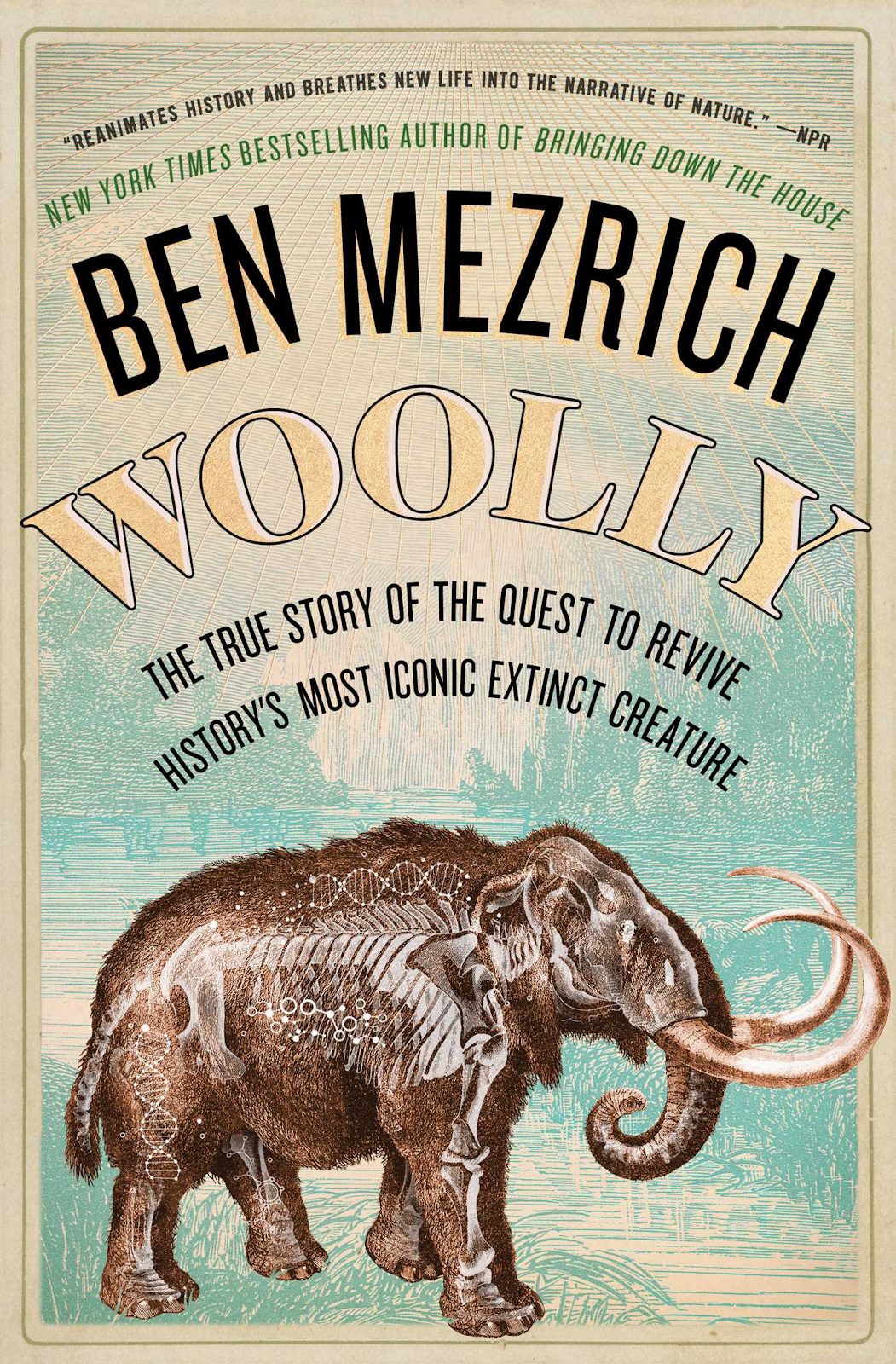 Ben Mezrich's 2017 book, Woolly  chronicles the mammoth undertaking (pun intended) to bring back this remarkable animal.  As a self-proclaimed science nerd and bibliophile, I love books about science, but as with all topics, the writing matters!  Thankfully, Ben Mezrich does not disappoint.  Mezrich synthesized numerous interviews and pages upon pages of research, creating a dramatic narrative that seamlessly integrates the science while capturing your attention throughout.  Employing Mezrich's style of choice, narrative nonfiction, the book reads as fiction, appealing to a wide range of readers and interests, and yet tells a TRUE story, a feat that not many writers can achieve so effortlessly.  
I was hooked from the first few pages.  Mezrich begins our story 3,000 years ago with the last of the Woolly Mammoths, lost in time, isolated on Wrangel Island in the Arctic Ocean while unbeknownst to them, the rest of their species died off over 4,000 years before.  Moving forward, the story spans decades and juxtaposes two very different settings, a Harvard lab and the desolate Russian tundra.  However, in both settings, the unbelievable is happening.
In America, our journey follows the life and groundbreaking work of scientist George Church, a staple in the field of genomics.  Though he may look like the quintessential "mad scientist," the maniacal white-haired image that at least one student always seems to conjure when asked to draw a scientist, he is one of the most unique minds of our time.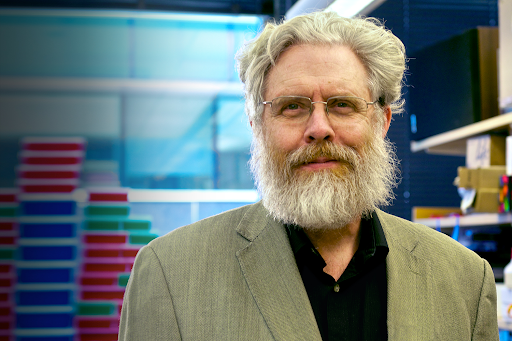 He has been integral to everything from the Human Genome Project, to the quest to eliminate malaria, and even the fight to reverse aging.  Growing up in the swamps of Florida, he dove headfirst into science, examining specimens and racing home to learn all he could.  Nothing stops him from pursuing his passions, and he has had his fair share of obstacles. He has dyslexia and narcolepsy, often needing to bounce the balls of his feet against the floor just to stay awake throughout the day.  He failed out of his first PhD program, falling in love with lab work so much that he neglected to attend his classes.  However, despite challenges he may face, one thing is for certain when it comes to George Church; willpower and dedication are not in short supply.  This is the man that once took part in an MIT nutrition study and lived on a bowl of corn starch and a test tube full of amino acids for 45 straight days. No one else in the study lasted half of that time!  Today, in his lab at Harvard University, there is but a single rule: nothing is impossible.  So, where does the Woolly Mammoth fit in?  Well the science itself was intriguing enough to Church, but it was the work of a father and son pair of Russian scientists across the world that provided him with a "reason to resurrect" the Woolly Mammoth.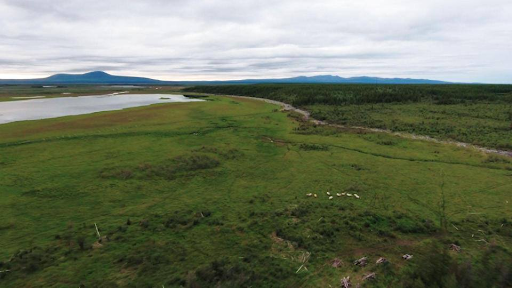 In Russia, the book follows Sergey Zimov and his son, Nikita Zimov, the scientists behind Pleistocene Park, a project conceived before Jurassic Park was even written.  The Zimov family conducts their work at the Northeast Science Station in Chersky, amidst howling winds often reaching 60 mph, and temperatures that drop 90 degrees below zero.  There, over millennia, species after species became extinct while the ground transformed from thick grass plains to moss and lichen-covered permafrost.  It is there, in the tundra, where a "ticking time bomb" awaits.  Permafrost contains "almost three times more carbon than all the forests on Earth combined."  As it melts, it releases carbon dioxide as well as methane into the atmosphere in a positive feedback loop.  Meaning, the more greenhouse gases released from permafrost, the warmer it becomes, melting more permafrost, and so on.  According to Sergey Zimov, the answer to this problem is not in some futuristic technology we have yet to invent, but in the distant past.  
Thousands of years ago, when large herbivores like the Woolly Mammoth roamed this same tundra, atop the permafrost was a lush layer of grass.  These creatures continually churned the soil, exposing the ground below to colder air and "keeping the permafrost perpetually chilled."  According to Zimov, these large herbivores are the key to slowing, or even stopping, the tundra time bomb.  Thus, we have Pleistocene Park, "a major initiative that includes an attempt to restore the mammoth steppe ecosystem, which was dominant in the Arctic in the late Pleistocene."  Zimov hopes to have Woolly Mammoths in the park one day, but in their absence, no one can question his commitment to his cause.  Zimov currently drives over the land in an old WWII tank to "simulate their signature stomp."  
With this vital mission in mind, George Church, along with environmentalists Stewart Brand and Ryan Phelan of Revive & Restore, an amazing organization where biotechnology meets conservation, started the Harvard team of Woolly Mammoth Revivalists.  They didn't need to clone a Woolly Mammoth, they could make one.  What if you could take the code for what made a Woolly Mammoth a Woolly Mammoth, and implant it into one of the Mammoth's modern relatives?  First, the team needed to figure out what makes a Mammoth, a Mammoth.  They settled on four main target traits: thick hair, thick layer of fat, small, rounded ears, and arguably the most important, the right kind of hemoglobin.  Hemoglobin is a protein that is essential for oxygen transport in our blood.  Our hemoglobin doesn't work too well in subzero conditions, but a Woolly Mammoth's blood was able to flow and release oxygen no matter how cold it was.  
So, this doesn't sound so hard right?  
Get the sequenced genome of a Mammoth (It is easier to come by than you would think.  Don't forget Jurassic Park fans, it is a lot easier to sequence DNA that is several thousand years old than it would be to obtain completely obliterated, nonexistent 65 million-year-old DNA.  And no, you can't fill in the gaps with a tree frog.)

Find the parts of its DNA that code for those traits (After all, they only have 4 billion base pairs in their DNA, about a billion more than we do.  Actually, this part isn't as hard as it sounds, either.  Similar human pieces of DNA have all been sequenced that can be used for comparison.  Ok, maybe not tusks…)

Synthesize the necessary genes from scratch.

Place the genes into the cells of a close relative (Asian Elephant) using molecular scissors, or CRISPR.
Hmm, maybe this isn't so simple, after all…  Well, maybe in any other lab, where impossible is an accepted term.  As one of the Woolly Mammoth Revivalists said, "it's only science fiction until we remove the fiction.  Then it becomes real."  There have certainly been failures along the way (such as trying to collect a tissue sample from a VERY angry African Elephant instead of a docile Asian Elephant), but failure is an important part of the scientific process!
So, where are they now?  What progress has been made?  The book ends by describing a scene 3 years in the future (which would in fact be 2020) where Woolly Mammoths once again roam on Wrangel Island.  OK, so we aren't there.  We aren't even close.  Let's just say, there is still much more to be done before you could see a Woolly Mammoth grazing in Pleistocene Park, but it certainly isn't science fiction anymore.
One last thing to leave you with…  It seems we may be able to achieve the de-extinction of the Woolly Mammoth, but should we?  I leave that to you.  Read this book.  Read all that you can.  Have a lively debate among your family and friends.  This Yale Environment Debate includes some points and counterpoints to get you started.  All in all, I wholeheartedly recommend the book and I have to say, I am kind of hoping I get to see a Woolly Mammoth in my lifetime.
Stay connected! Be sure to subscribe to Down to a Science— The Official Blog of the Connecticut Science Center and follow us on social media.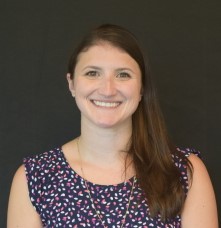 Melissa Garafola is the Genetics Educator at the Connecticut Science Center. She develops as well as delivers Genomics programming to a wide variety of audiences. Melissa has a BA in Biology from Western Connecticut State University and a MS in Education from the University of Bridgeport. Melissa is also certified in Connecticut to teach Secondary Biology. She transitioned from the research lab, to formal education, ultimately finding her way to her true passion of informal science education.