Throughout the spring and summer, and even fall, weather permitting, visitors to the Connecticut Science Center explore our rooftop garden. There, we invite them to observe native plants and pollinating insect species, take in impressive views of the Connecticut River, and enjoy and draw inspiration from the blooms in Michaela's Garden.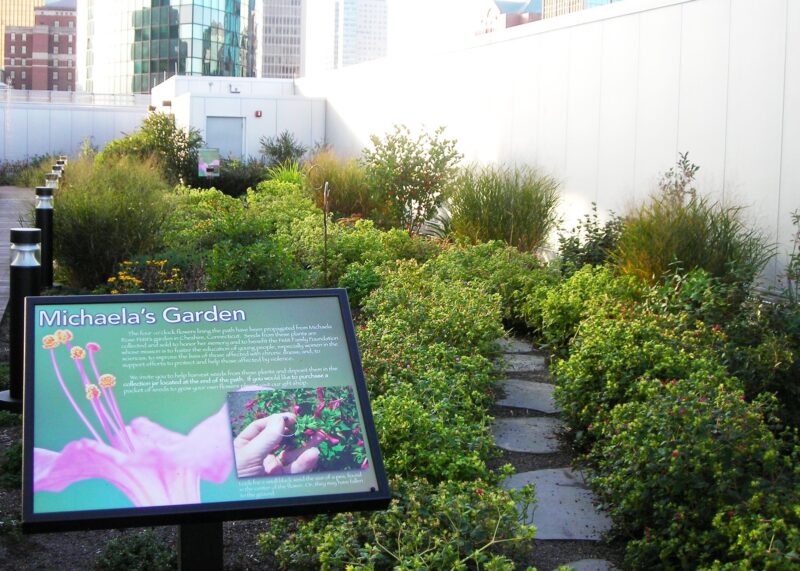 Did you know that Connecticut is the only state in the nation to have Children's state flower? You can find this vibrantly colored bell shaped flower in the area of the Connecticut Science Center's rooftop garden dedicated to Michaela Petit. The Four O'Clock was a favorite of Michaela's and she really enjoyed planting, caring for and harvesting the seeds from this pretty and wonderfully fragrant flower. All of the Four O'Clock flowers you will find in Michaela's Garden, here at the Science Center and around the state, have been re-planted with seeds propagated from Michaela's original garden in Chesire.
Twelve years ago, this incredible initiative grew out of love and a mission to memorialize Michaela Rose Petit by inspiring families and youth to use gardening as a tool for community service. The Connecticut Science Center is proud to be one of fifteen Michaela's Garden locations across the state. Each year, we plant Four O'Clock flowers (Mirabilis jalapa), which are offspring from the Petit's home garden, to support the Petit Family Foundation, honor Michaela's memory, and inspire all to love science and nature.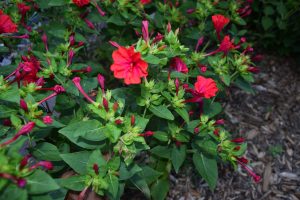 Four O'Clocks, a favorite of Michaela Petit, were officially named the State of Connecticut Children's Flower in 2015. These lovely annuals are aptly named, as their fragrant, colorful blooms open in the early evening, usually around four o'clock. They form a tender tuber that can be lifted and stored over the winter. Four O'Clocks are extremely simple to grow and raise from seeds, which can be harvested throughout the late summer and into fall.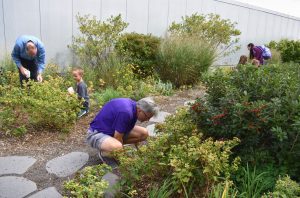 The Connecticut Science Center typically shares the tradition of planting Michaela's Garden with our community on Family Gardening Day.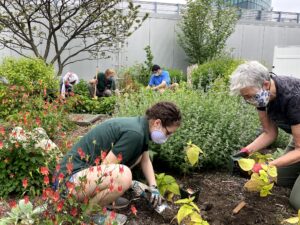 Despite the global challenges we currently face and the Science Center's temporary closure, we remained dedicated to planting Michaela's Garden. On a beautiful Thursday in early June, six of our Green Team volunteers planted around sixty Four O'Clocks in our rooftop garden. Over the summer, as the plants grow and begin to flower, their seeds, which resemble small peppercorns, will be collected and stored in our collection box to be returned to the Petit Family Foundation. There, volunteers will package and sell them to help carry out their mission to foster the education of young people in the sciences, improve the lives of those affected by chronic illnesses, and support efforts to protect and help those affected by violence.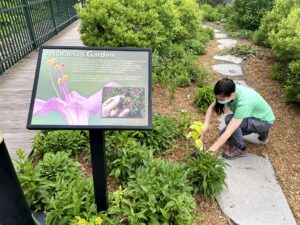 Planting a garden, or even a few seed, is good for the mind, body, and soul, and, in this case, an important cause. Even the "brownest" thumb should give it a try, so why not help us carry on this tradition by planting a few seeds from Michaela's Garden? They are available for purchase on the Petit Family Foundation Website. Sun-loving Four O'Clocks are an excellent addition to your existing garden, and they'll even grow well in an 8-inch pot filled with potting soil on your porch or patio. Be sure to follow the instructions on your seed packet and keep the plants well-watered.
From planting and appreciating early spring blooms to harvesting seeds in the fall, gardening is an act of hope, faith, and wonder at all that the natural world has to offer. Later this fall, we aim to host a Family Harvest Day, where visitors will help harvest seeds for the Petit Family Foundation. In the meantime, we hope you dig your hands into the soil and experience the magic of plants—and perhaps visit the Connecticut Science Center to appreciate Michaela's Garden on our roof. 
Happy gardening! 
Stay connected! Be sure to subscribe to Down to a Science— The Official Blog of the Connecticut Science Center and follow us on social media.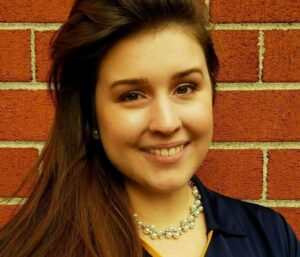 Kelsey Ballard the STEM Career Coordinator at the Connecticut Science Center. In her role, she helps build interactive learning experiences with STEM professionals and educators to inspire local youth to pursue STEM careers in their home state. She studied Biological Sciences and Psychology at the University of Connecticut and received her master's in Healthcare Administration at the University of New Haven. In her free time, she loves baking and crafting.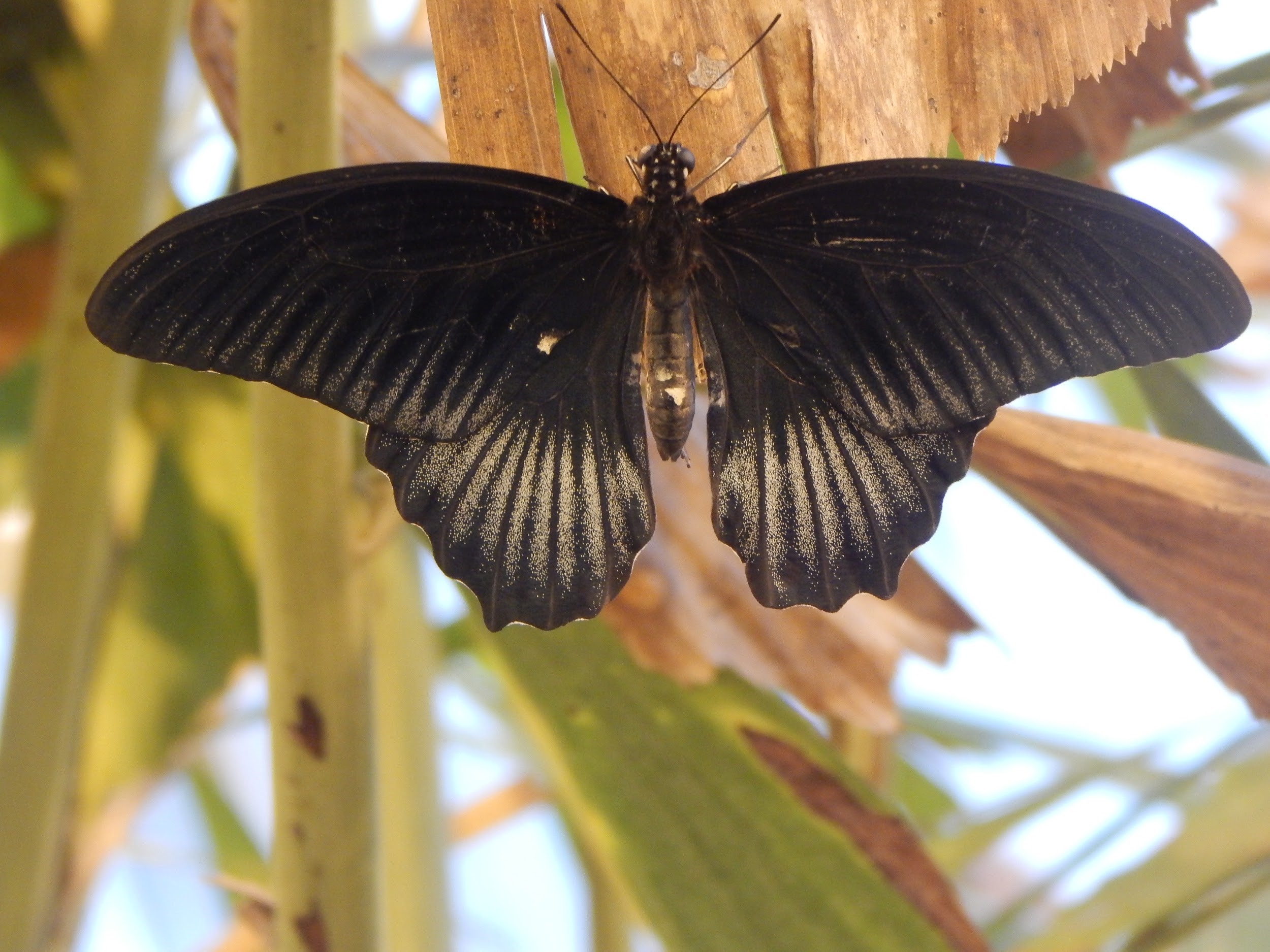 Kim Kelly is the Horticulturalist and Butterfly Encounter Manager at the Connecticut Science Center. She has spent her 20 years in Connecticut at UConn Cooperative Extension and CT DEEP before joining the team at the Connecticut Science Center.