The Connecticut Science Center celebrates the achievements of professionals, groups, advocates, businesses, and leaders who share our mission to inspire lifelong learning through interactive and innovative experiences that explore our changing world through science. We honor these individuals and organizations in the STEM (science, technology, engineering, and math) fields at our annual STEM Awards Breakfast, presented by Stanley Black & Decker, each spring.
We are pleased to introduce the honoree for the 2020 STEM Achievement Awards, Carmen R. Cid, Ph. D. In this personal and inspiring conversation, we hope that you enjoy getting to know Dr. Cid who embodies the spirit of the Connecticut Science Center and our passion to inspire the next generation of STEM professionals.
Carmen R. Cid, Ph.D.
Carmen Cid, Ph. D. is the Dean of Arts and Sciences, Eastern Connecticut State University. As founding chair of the Women and Minorities in Ecology Committee for the Ecological Society of America (largest professional organization for ecologists), Dr. Cid led the development of the first blueprint for establishing the committee infrastructure and strategic planning initiatives to improve recruitment, retention and career development for women and minorities in ecology (the WAMIE I report). Over the last two decades she worked to set and accomplish many goals to enhance ESA diversity and ecological literacy initiatives. The biggest achievements being the establishment of the SEEDS award-winning mentoring programs for minority undergraduates ( https://esa.org/seeds/) and the development of many society initiatives to improve career development of early career ecologists, along with establishment of society-endorsed undergraduate ecology education standards (www.esa.org/4dee). Council of Colleges of Arts and Sciences strategic planning initiatives.
Amy Sailor: What inspired you to pursue a STEM Career?
Carmen Cid, Ph. D.: My father was always interested in biology and spent time taking me to the Museum of Natural History in Havana, Cuba and in New York City. I always enjoyed reading about nature as a kid and later doing biology in high school. I had a great High School biology teacher who mentored me too. It wasn't until my junior year in college that I took a Plant Ecology course that took place on Saturdays at New York University in Greenwich Village, NYC. The course would bus us out of Greenwich Village to study ecology (my first introduction to this subject a few years after the first Earth Day Celebration in Central Park, NYC) all day in bogs, forests and other interesting habitats. We were doing transects, learning many new species, and seeing habitats I could have never imagined (like bogs full of pitcher plants, Venus fly traps, cranberries, and blueberries). Afterwards, I would be bused back to Greenwich Village, with my hip boots in hand, and take the subway from Manhattan to Brooklyn, to where I lived. It was a very different outlook on biology and life, and I had a lot of time to reflect during that subway ride on how what I was learning related to my life and my future. NYU did a great job of using its natural resources in the city and outside the city to get students interested in biology. We even had a lab in intro bio class that involved going through many of the exhibits in the American Museum of Natural History to figure out the answers needed for the report.
AS: What do you feel is the most important aspect when working as a team? Any experiences in particular?
CC: I started working as a team in my first undergraduate ecology class where we had to go to field sites never seen before, involving crossing deep water areas and avoiding falling down while trying to identify many new species. It was clear that in order to get the data to write the papers needed for that class that one had to be able to work in teams effectively. Later in life, it has been very important in my work with the Ecological Society of America task force on developing undergraduate ecology education curricular standards. It was a team effort that involved lobbying members of the society's governing board to approve our recommended curriculum (not everyone has education as their background) and involved working as a team to include all aspects of ecology education that were needed.
AS: As the founding chair of the Women in Ecology Committee for the Ecological Society of America, how do your research and goals benefit future generations? 
CC: My research has always focused on how to get all kinds of people to understand and value the wonders of all types of natural systems and to see how humans affect and are dependent on the environments they live in. When I founded the Women and Minorities in Ecology committee, we did not even have childcare options at the annual Ecological Society of America conference, nor did we discuss why less than 5% of ESA members were minorities. More had to be done to make ecology an inclusive discipline and one that would value input from all people and value their cultures. I have led that change over 29 years, and there is still a long way to go. Now, everyone is talking about it and working toward it in more than one place – not just a handful of us doing this.
AS: How has your career shaped your outlook in regards to inspiring not only young women but all in the science and engineering fields?
CC: I was fortunate to have two women pioneers in ecology as my Master's and PhD mentors. I saw what they had to go through to progress in their careers. Both of them became advisors to heads of state, one to President Obama and the other to Australia's Prime Minister. Neither of them had it easy, but they were hard workers, were resilient, and persevered. My career has shown me that one can't rest in our laurels because there is still a lot to be fixed and improved in STEM careers so all students can enjoy the wonders of studying nature and science. Networking with like minds as well as publishing and presenting talks on the subjects generates a broader group of supporters that help the initiatives move forward and provide progress to the discipline.
AS: Tell me a little bit about other projects you are working on?
CC: I am collaborating with other women of color in ecology to develop models for how to do field experiences that encourage students of color to pursue ecology careers. Many of us were not exposed to field work activities as kids and were uncomfortable with that. We are working to develop a guide for all faculty so that they can help their students be comfortable. I am also part of an ESA task force on implementing and promoting our new society-endorsed curricular standards for undergraduate ecology education — the 4DEE curriculum (four dimensional ecology education – http://www.esa.org/4dee).
Stay connected! Be sure to subscribe to Down to a Science— The Official Blog of the Connecticut Science Center and follow us on social media.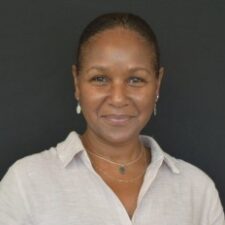 Amy Sailor serves as the Advancement Program Manager for the Connecticut Science Center. In this role, she stewards the 14 members Steering Committee of the Women in Science Initiative. Amy also implements a suite of programs and events that bring attention to the accomplishments of women in the sciences and introduces girls and young women to STEM fields of study and career paths.