The Connecticut Science Center celebrates the achievements of professionals, groups, advocates, businesses, and leaders who share our mission to inspire lifelong learning through interactive and innovative experiences that explore our changing world through science. We honor these individuals and organizations in the STEM (science, technology, engineering, and math) fields at our annual STEM Awards Breakfast, presented by Stanley Black & Decker, each spring.  
This year, we're pleased to highlight some of the nominees for the 2020 STEM Achievement Awards and Petit Family Foundation Women in Science Award in a series of personal and inspiring recorded conversations. We hope that you enjoy getting to know the 2020 class of nominees who embody the spirit of the Connecticut Science Center and our passion to inspire the next generation of STEM professionals.
Today, we'll hear from Leticia Colón de Mejias author, motivational speaker, entrepreneur, CEO and founder of  the nationally awarded company Energy Efficiencies Solutions. She is also the President of Green Eco Warriors, a nonprofit which works to create a "Culture of Sustainable Thinkers". 
LETICIA COLÓN de MEJIAS

Leticia Colón de Mejias is an accomplished entrepreneur, author, and public speaker. She is President of Green Eco Warriors, a nonprofit providing STEAM based educational tools and presentations to underrepresented communities. Colón sits on several national nonprofit boards.

Leticia is the Founder & CEO of Energy Efficiencies Solutions (EES). Through her business, she has completed comprehensive energy efficiency upgrades at over 12,000 Connecticut homes and upgraded over 10 million sq ft of multifamily housing. Her companies are recognized for excellence and work with respected partners to lower energy waste and increase renewable energy resources while protecting, training, and employing members of under-represented communities.

Colón is the recipient of several national awards, including a 2013 U.S. Department of Energy Home Performance with Energy Star Award for Customer Service and Market Leadership, 2013 and 2017 Capital Workforce Partners Business Star Awards. Colón was inducted to the ACI & Building Performance Institute Hall of Fame in 2015.
Prior to her work in energy policy, she was highly accomplished in the workforce development and healthcare management fields. She has received several national workforce program development awards and was a recipient of the Hartford Business Journal  40 under 40 award, the 50 Top Latino award, SINA award, and the Maria Sanchez Award.
Interview with Leticia Colón de Mejias
Amy Sailor: Leticia, can you share about who and/or what inspired you to pursue a career in STEM?
Leticia Colón: I love Science. Science is Life. I love nature and investigation, and when you combine my love for children with  these loves you have the keys to what drives my every choice. My mom worked for DCF for 25 years. There were always kids at my house. It was often my responsibility to keep kids entertained. Science is a great way to keep kids busy. My dad was also very invested in children and nature. My dad took me on long nature walks and taught me to encourage wonder in others. My grandpa on my mom's side was super into plants and he taught me how to crossbreed plants and create new plants. He taught me about composting, canning foods, and why good dirt is like gold. These things and two great science teachers got me hooked on STEM. When I became a mom, I also wanted to be sure my kids saw the world with wonder and learned to love nature and science. That is what inspired me to create Green Eco Warriors. It is also why I still work on STEM books, comics, games, and events. It is just so much fun to explore STEM topics and activities.
Amy: It appears that your early interests in the environment and energy systems combined with your current teaching about climate change has translated into the founding of your business Energy Efficiencies Solutions (EES).  How does your business impact families?
Leticia: Energy Efficiencies Solutions is part of a solution to fight climate change one home and one family at a time. We work to draw down energy waste and ramp up renewable energy choices. This is very important to human health, our planet's health, our economy, and our very future. We use energy everyday and those energy choices have impacts on people and the planet. Energy is literally connected to everything. That is why I started EES. I knew that to truly fight climate change we have to take real action at home, work, school, and everywhere to lower our impacts on mother earth. 
You can learn more about that in this video for kids Dinero the Frog Learns to Save Energy, or here for college students and parents: Solve Climate by 2030. 
Through my work on  the Federal Policy for The Building Performance Association of the United States of America, I also get to work on federal energy policy. That is another way EES helps the nation create a cleaner energy future for all people. EES has also helped to train hundreds of CT residents for local clean energy jobs and works with CWP and the Center for Latino Progress, as well as SAMA, and other local groups to provide training for people who want to work in clean energy careers. EES also helps by giving away thousands of educational books to our customers and local schools. 
Amy: How has your career shaped your outlook with regard to inspiring young women in the science and engineering fields?
Leticia: I came from a healthcare career and I was lucky enough to work in research with some very smart people. That also pushed my love for science and the love to share science with others. I created the Hartford Healthcare medical mentor program for student doctors. This allowed me to work with many young women studying medical careers. Today, I teach students about climate change, energy systems, building science, water pollution, plastic, and how building systems impact human health. I work a lot, but it doesn't feel like work because I love what I do. I am always learning new science skills, and that is exciting to share with others.  A new project I am working on is creating educational videos for kids to see at home: PESKY PLASTIC BOOK READING. I am also honored to speak at public schools. That is always fun and I enjoy hearing the youth questions on energy, climate, trash, and our ability to help the world become a better place to live for all people through science based problem solving approaches.
Amy: Can you tell me a little bit about other projects you are working on? 
Leticia: I am very lucky that even though my body has been struggling with some illnesses, I have a great team to help me with my work. We have been creating new shows on sustainable living, and we are working at creating a children's show. My team and I are always creating new content for youth and families to learn about the world and how we can connect to that world through science and exploration. 
To learn more and to connect with Leticia Colón de Mejias visit http://www.barnesandnoble.com/s/leticia-Colón-de-mejias and  http://leticiaspeaks.com/
Stay connected! Be sure to subscribe to Down to a Science— The Official Blog of the Connecticut Science Center and follow us on social media.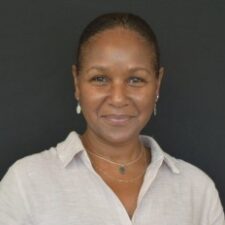 Amy Sailor serves as the Advancement Program Manager for the Connecticut Science Center. In this role, she stewards the 14 members Steering Committee of the Women in Science Initiative. Amy also implements a suite of programs and events that bring attention to the accomplishments of women in the sciences and introduces girls and young women to STEM fields of study and career paths.