Happy spring everyone! I hope you are as thrilled about all the beautiful plants and flowers cropping up as I am (though hopefully you don't also have pollen allergies like I do, I feel so sneezy!). An awesome way to explore the gorgeous outdoors and incredible landscapes around the world is by checking out virtual tours of gardens. I love it because the pollen won't bother my sensitive nose, and I can soak in the sights on a rainy day. Here are some of my favorite gardens to check out online!
New York Botanical Garden
Every year, from mid-February to mid-April, the New York Botanical Garden (NYBG) puts on an incredible orchid show. If you didn't get a chance to see these beautiful and fascinating plants in person, now is a great time to get a virtual tour of the orchid show with Marc Hachadourian, the NYBG's Director of Glasshouse Collections and Senior Orchid Curator! Orchids are one of my favorite plants because they are epiphytes, or plants that grow attached to tree branches! For more information on epiphytes, you can also check out our Exquisite Epiphytes post written by my colleague John Meszaros on the Connecticut Science Center blog!
You can also pick a virtual spring walk featuring different flowers to check out other beautiful areas of the NYBG grounds or guided tours of other themed garden areas.
The NYBG also offers resources for planning a garden at your school or home!
Keukenhof
Keukenhof in Holland is designed to showcase spring flowering bulbs like tulips and the beautiful hyacinths shown in their "Blue River." You can also explore the gorgeous flowers through this 360-degree video where you can click and drag the video to look at whichever flowers catch your eye! Don't forget to check the video quality settings, it goes up to 5K video so you can see the flowers in as much detail as your computer can handle! 
United States Botanic Garden
Take a virtual tour of the United States Botanic Garden! With this virtual tour, you can view the outdoor rose garden, the indoor tropics house, and the Bartholdi Park gardens in a Google Earth walkthrough. This is great for a rainy day when you wish you could be outside exploring!  
Behind the Scenes at Disney Gardens
Check out the careful and crafty assembly behind the Disney character topiaries in this short behind the scenes video! Check out Behind the Seeds at Disney's EPCOT to see their integrative pest management lab and their hydroponic garden.
If you're looking for more ways to connect with plants, or some fun science activities to do at home, check out these resources!
Science At Play: Gardening with Food Scraps
Science Sunday: Crafting a Homemade Bird Feeder and Making Seed Balls
Exhibit Insider: Butterflies, Science, and a Little Bit of Magic – Check out this blog post if you want to learn more about the making of the Connecticut Science Center's very own Butterfly Encounter from Kim Kelly, our Horticulturist (gardening expert) and Butterfly Encounter Manager.
iNaturalist and Seek by iNaturalist: Two apps that help identify plants (and other creatures) from photos. iNaturalist is great for older kids and adults, Seek is great for younger children (but I love it for its instant gratification – it can start to tell you what you're looking at while you have your camera open through the app!)
SciShow: Plants Are Way Cooler Than We Give Them Credit For – A great video to learn more about the fascinating biology of plants.
For other hands-on science activities check out the Science at Play section of our blog!
Stay connected! Be sure to subscribe to Down to a Science— The Official Blog of the Connecticut Science Center and follow us on social media.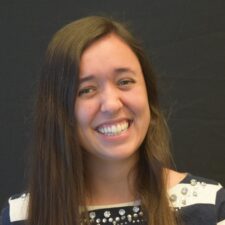 Jessie Scott is a STEM Educator who enjoys encouraging students' enthusiasm for science. She teaches classes to students visiting the Science Center and brings STEM lessons to schools across Connecticut. Jessie completed her Master of Science degree in Microbiology at Dartmouth College and worked as a science educator at the Montshire Museum of Science before coming to the Connecticut Science Center. Her scientific interests are: biology – how living things have adapted different strategies to survive in their environments, insects, and plants. In her free time, Jessie likes to go rock climbing, hiking, and skiing.