If you've noticed in some of my previous blog posts I mention my experience traveling to the Maya ruins of Tulum in Cozumel, Mexico, quite frequently. I want to tell you the story of my trip to Tulum and invite you to take a virtual tour through some panoramic shots and my photographs. Perhaps this sneak peek will inspire you to travel there or any other Maya location someday, as these trips are enjoyable for everyone and not just anthropology students, like me. Please join me in this at-home exploration of the Maya ruins of Tulum.
The Marketplace
After a long bus ride, you'll arrive at the marketplace in Tulum. You might see Maya descendants wearing traditional clothing and makeup while performing ritual dances, or swinging from a large pole with a rope tied around their ankles for Danza de Los Voladores. By adorning themselves with warrior headdresses and feathers, performers pay homage to their ancestors and animal spirits. Of course, tourist photo opportunities also help support their economy.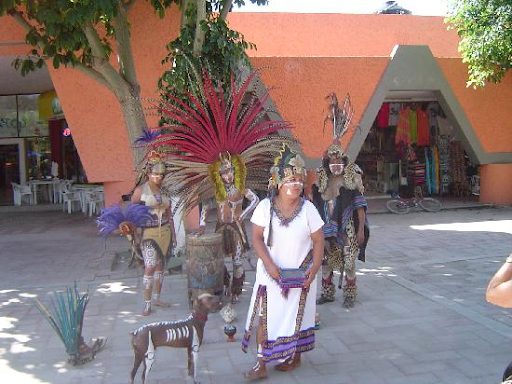 Among the performers are artisans and craftsmen selling their wares. If you are like me and want to bring something home with you that tells a story of your journey to Tulum, you could opt to purchase a cartouche, perhaps made of obsidian. This stone was incredibly significant to the Maya because of its sturdiness and usage in various tools and because they believed it had protective qualities. Your cartouche might include an inscription written with Maya glyphs, which read from top to bottom, as the Maya believed everything starts at the bottom and works its way to the bottom, like how the sun rises in the morning and sets in the evening. I wanted to have "Tulum" written on my cartouche to keep the beautiful places I've had the privilege to travel close to my heart as a part of my anthropology studies. Once you've finished exploring the vibrant marketplace, let's continue your journey to the Maya ruins of Tulum.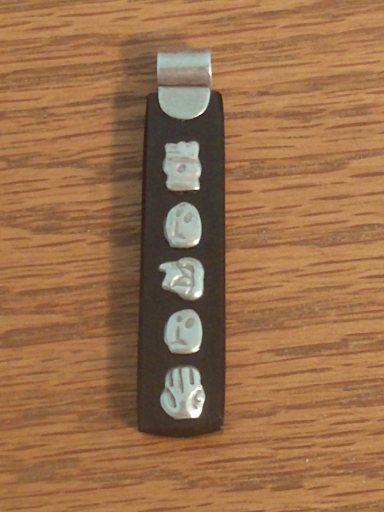 My Maya cartouche spells out Tulum because I wanted to keep the experience close to my heart for my cultural anthropology major and future career goals.
The Hike to the Ruins of Tulum
I hope you are wearing your hiking shoes for this leg of the journey! While walking to get to the ruins, you may come across adorable animals in the jungle, like a flightless bird with her babies, or even a sloth napping up in a tree. You will reach a stone archway to enter Tulum, which earned this name because four walls surround the ruins. One includes the entrance through which you will pass, two others face east and west, and the last is in the ocean and made of a coral reef. The ancient Maya built beautiful stone masonry to enclose Tulum for protection.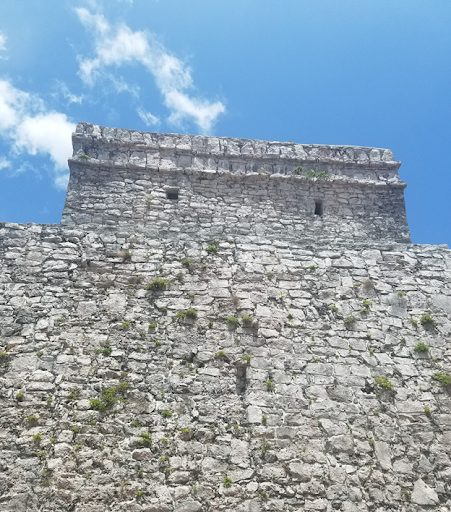 One of my favorite shots of the Maya stonemasons' incredible work. Each stone is carefully placed so the structure will last. Ever wonder how the Maya were able to move such heavy bricks? By using wooden poles they were able to roll the bricks into place.
Welcome to the Maya Ruins of Tulum!
Congratulations! You have completed your trek through the jungle to the picturesque archaeological site of Tulum. Located 86 miles south of Cancun and 38 miles south of Playa Del Carmen, Tulum is one of the most visited tourist locations and famous archaeological sites due to its beautiful cliffside views overlooking the Caribbean sea's clear blue waters.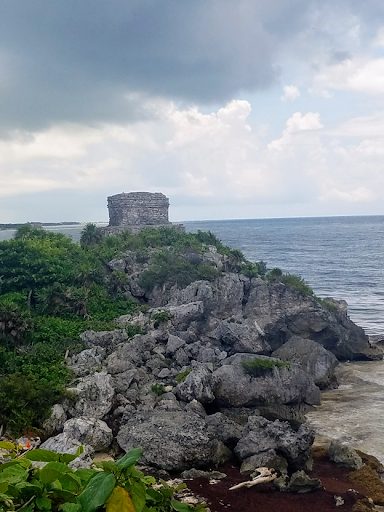 An image I took of the beautiful cliffside near the ruins.
Please click here to take a panoramic virtual tour of the Maya ruins of Tulum: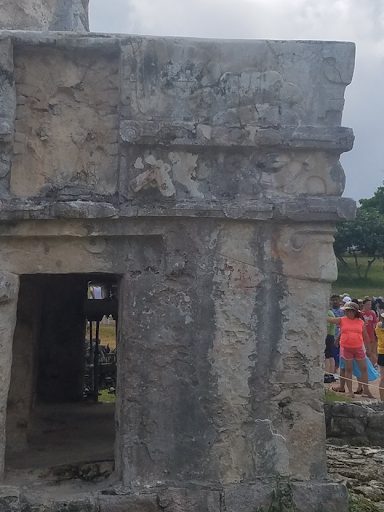 This building has the image of the Maya sun god carved into it. Due to the building's location, when the sun rises, the light shines right through the center of the building
.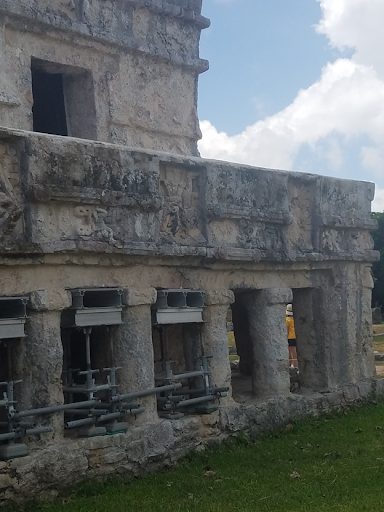 When you look above the windows, you will notice carvings depicting the Maya king who lived in the building with his name carved with skill.
 Thank you for joining me through this excursion to the Maya ruins of Tulum. I hope you've discovered some interesting tidbits about the Maya Civilization and that this has sparked more interest in learning more about the Maya culture.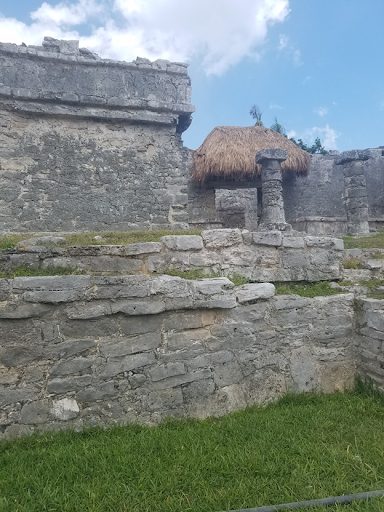 The doorway of this parliament building started to crumble so the addition of a thatch roof was added in the place of the stone.
Immerse yourself in the world of the ancient Maya and explore one of the world's most complex and advanced civilizations. Reserve your timed ticket in advance of your visit on CTScienceCenter.org.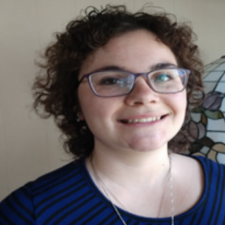 Sarena Salmeri is an intern for the Maya: Hidden Worlds Revealed exhibit. In her role she helps to educate visitors about various aspects of the Maya Culture, as well as research different Maya ways of life as they live today and have in the past. She is working towards her bachelor's degree in Cultural Anthropology at Southern Connecticut State University, aspiring to work as an ethnographer and in museum curation. In her free time, she enjoys taking her dog for long walks across town, collecting artwork from the places she has traveled, and reading different ethnography books about a variety of cultures.