The Apollo moon landing.  The Hubble Space Telescope.  The Curiosity Rover. For over 60 years, NASA has been behind some of the most iconic feats of engineering in modern history, making it one of our nation's most cherished institutions.  At NASA's Kennedy Space Center Visitor Complex in Florida, exhibits tell the story of NASA's successes and setbacks, and the scientific frontiers they've expanded. Circumstances may not be allowing visitors to experience these exhibits firsthand, but Studies Weekly has produced a "virtual field trip" of the Kennedy Space Center that takes you on a tour of its halls so that even from home you can enjoy the many wonders of the Space Age.
On this 11-minute tour, you can step into an astronaut's quarters, marvel at the real-life space shuttle Atlantis, see the history and variety of actual rockets in a "rocket garden," and uncover the answer to the greatest mystery of the Universe: how do people go to the bathroom in space? 
You can also check out this astronaut's tour of the International Space Station if you want to learn more about what it's like to live 250 miles above the Earth.  Browse through this nearly 30-minute video of Commander Sunita Williams diving through the labyrinthine metallic passages of the station, stopping at various locations to explain the zero-gravity routine of sleeping, exercising, and eating.  Don't miss the gorgeous view of Earth out the window!
Finally, if you're eager to begin doing space science yourself, head over to the citizen science platform Zooniverse: Galaxy Zoo to classify beautiful images of galaxies, which helps researchers in their work to discover what "galaxies can tell us about the past, present, and future of the Universe."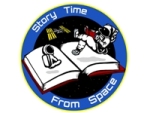 But wait, there's more! NASA has released a list of resources for books you can read with your family at home. There are books for both children readers and adult readers. Plus, join astronauts as they read books from space in Storytime From Space. 
The Connecticut Science Center is always looking to share new ways for you to explore the science of our world and beyond.  We hope you'll join us next Friday for another virtual field trip! 
Stay connected! Be sure to subscribe to Down to a Science— The Official Blog of the Connecticut Science Center and follow us on social media.

Nick Villagra is a STEM Educator at the Connecticut Science Center, responsible for developing and delivering science experiences, including classroom lab programs, stage shows, and vacation camps. Nick holds a Bachelor's of Science in Engineering from Swarthmore College. and has been a speaker at the New England Museum Association conference. Always looking to put a unique stamp on the Science Center's offerings, Nick enjoys incorporating custom-designed 3D printed materials for students to interact with.