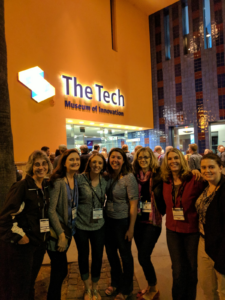 Today, we are going to The Tech Interactive, a pioneering science and technology center in San Jose, CA! Nestled in the heart of a region known as Silicon Valley, a name globally synonymous with innovation and technical advancement, it makes perfect sense that the mission of The Tech is to inspire the innovator in everyone. This four-part field trip will have you exploring how innovators in California are creating technologies for the real world. As you tour different sections of The Tech, you will meet actual STEM stars and see how they solve the problems of today (and tomorrow) using technology in each of their fields. One thing these individuals all have in common, just like our team at the Connecticut Science Center, is that they LOVE what they do and find ways to have fun as they share their passions with others.
In 2017, some of the Connecticut Science Center's staff had a chance to visit The Tech. We loved how many cool pieces of technology there were to explore and play with, and how nicely the exhibits represented the innovation happening in Silicon Valley.
So come and investigate with us! Feel free to check out The Tech all at once, or take your visit chapter by chapter and choose your own adventure. We have outlined each section for you so you can explore your favorite exhibit or career path first! Can't get to California? Worry not! We have included things you can do at home to dive deeper into each chapter. 
The Tech Interactive Virtual Field Trip
Where Will Your Field Trip Take You First?…
Chapter 1: The Tech Studio & a Trip to Ford Motor Company
First stop: The Tech Studio, where we get an introduction to solving problems using the 4C's (Collaboration, Communication, Creativity, and Critical Thinking). Then, we take a short trip north to the Ford Motor Company's Greenfield Labs in Palo Alto to meet up with Sravani Yajamanam Kidambi, who is an Automotive Driving Research Engineer. She shows us how the worlds of artificial intelligence, data science, and engineering interact while designing driverless cars and other hands-free driver assistance systems. 
More To Explore:
Video: What is it like to ride in a self-driving car?
Video: Welcome to the school for self driving cars.
Try It Out: Quick, Draw! machine learning game. Watch the video then give it a try!
https://experiments.withgoogle.com/quick-draw
Chapter 2: The Tech's BioDesign Studio & Stanford's Bhatt Lab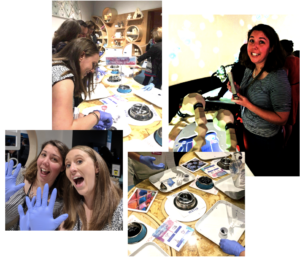 Next stop is The Tech's BioDesign Studio, one of our favorite destinations, where you are only limited by your imagination! Here, you'll get the chance to explore the world of biotechnology, where living things and technology intersect to build a better world. Our staff had a blast in the BioTinkering Lab when we visited The Tech back in 2017. Here are Stephanie and Kate from our Education department creating their own creatures and experimenting with Bio Ink! 
The BioDesign studio is also host to Stanford at The Tech, where you can explore genetics alongside Stanford University faculty and students. Then, in Stanford, you will be able to meet Dr. Ami Bhatt, a microbiologist and Assistant Professor of Genetics and Medicine. She studies the human microbiome, or all of the bacteria, viruses, and fungi that live on and inside of us. Don't miss the ways in which Dr. Bhatt's team embraces humor in the work that they do. See if you can find all four "Teenage Mutant Ninja Turd-les!"
More to Explore
:
Questions?: Ask a member of the Stanford University team your questions about all things DNA! https://genetics.thetech.org/ask-a-geneticist 
Video: Meet Zachary Copfer and watch him make amazing portraits with microbes.
Activities: Go on a microbe scavenger hunt, play human microbiome Minecraft, and even create a home for microbes! Feel free to explore the extra tabs in these resources. There are so many activities to do at home!
https://www.amnh.org/explore/ology/microbiology/microbes-coloring-book-scavenger-hunt
https://www.amnh.org/explore/ology/microbiology#games
Chapter 3: Social Robots & a Visit to Intuitive Surgical
On to The Tech's Social Robots! Here, you can design, build and program your very own robot. Then, you'll head to Intuitive Surgical, where Nicky Goodson, Director of Product Verification, will introduce you to robots designed to assist surgeons in the operating room. With this technology, surgeons are able to move beyond the limits of the human hand, enhancing their ability to care for their patients. Robots like these are used right here in Connecticut! Be sure to keep an eye out for the names of the robots at Intuitive Surgical. You might find a certain magical friend of ours…
More to Explore
:
Build: Create and control your own artificial hand.
https://www.scientificamerican.com/article/build-an-artificial-hand/
Video: Watch a Da Vinci robot carefully peel a grape.
Code: Once a robot is built it needs to be programmed. Practice your coding skills by designing and programming video games.
Chapter 4: Reboot Reality & Exploring Adobe 
The last chapter of your virtual field trip has you visiting the Reboot Reality exhibit hall to experience the intersection of technology and art by checking out how sensors, artificial intelligence, hardware, software, and alternate realities can come together to create exciting new worlds! Take a short walk with your host to Adobe and catch up with Tenell Rhodes, a Hardware Research Engineer and Scientist. His job is to work with other designers and researchers to turn sketches into working prototypes. Using these prototypes, the members of his team can explore whether or not these technologies are viable ideas for the future. 
More to Explore:
Video: SciShow- How does Pokemon Go work?
App: Download Quiver for free, print some coloring pages from their site, then bring them to life.
Tinker: Try making your own drawing duplicator machine.
https://www.scientificamerican.com/article/duplicate-your-drawings-with-a-homemade-machine/ 
Build: Try prototyping solutions to lots of different problems using stuff you have at home.
https://pbskids.org/designsquad/build/spinner/
After Your Field Trip…
If you enjoyed today's field trip be sure to check out some of our other favorite Connecticut Science Center resources for more fun science exploration and discovery! Thanks for being our field trip buddy! Use #ScienceAtPlay to share the activities you tried during your field trip with us! 
Stay connected! Be sure to subscribe to Down to a Science— The Official Blog of the Connecticut Science Center and follow us on social media.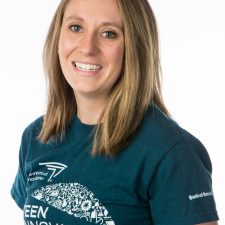 Kate Saulsbery-DeFelice graduated from Russell Sage College with a dual degree in Childhood Education and Life Sciences. She has been a STEM Educator at the Connecticut Science Center since 2014, and especially loves sparking scientific curiosity in early elementary aged students. Kate is also a FIRST Robotics Competition mentor who is passionate about technology and working alongside students to solve problems, generate new ideas, and prototype solutions. Her goal is to help everyone discover and grow their appreciation and excitement for STEM.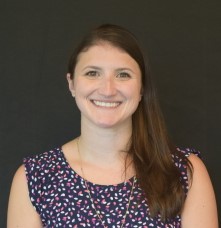 Melissa Garafola is the Genetics Educator at the Connecticut Science Center. She develops as well as delivers Genomics programming to a wide variety of audiences. Melissa has a BA in Biology from Western Connecticut State University and a MS in Education from the University of Bridgeport. Melissa is also certified in Connecticut to teach Secondary Biology. She transitioned from the research lab, to formal education, ultimately finding her way to her true passion of informal science education.