The Petit Family Foundation Women in Science Leadership Award recognizes a woman working in STEM who is a leader in her field, and who makes a significant effort to support other women and encourage girls' interests in STEM. The honoree is selected by the Connecticut Science Center's Women in Science steering committee and is traditionally celebrated at our annual STEM Awards Breakfast, presented by Stanley Black & Decker, each spring.
This year, we are pleased to highlight some of the nominees for the 2020 STEM Achievement Awards and the Petit Family Foundation Women in Science Leadership Award in a series of personal and inspiring recorded conversations. We hope that you enjoy getting to know the 2020 class of nominees who embody the spirit of the Connecticut Science Center and our passion to inspire the next generation of STEM professionals.
In this conversation, we'll get to know nominee Emily Bartz. While Bartz admits that she is still sometimes the only female in the room, she is certainly making room for others by mentoring and creating opportunities for youth. She is leading teams and blazing trails while working on some of the most exciting projects in the industry. 
EMILY BARTZ

Emily Bartz is S-70i Staff Project Engineer, Sikorsky Aircraft, A Lockheed Martin Company. As an engineer for Sikorsky Aircraft Corporation and a former Girl Scout, Emily understands the need to present opportunities in STEM careers to underrepresented youth and to girls in particular. She has reached more than 1,000 girls and almost that many adults through Girl Scout STEM programming.
Within her company, Bartz has mentored young women entering the field and is not adverse to mentoring men. In her spare time, she trains and instructs others in Krav Maga, an Israeli military style of self-defense, particularly focusing on training and empowering other women.
Her career as an engineer focuses on aerodynamics and propulsion, working on Sikorsky's model wind tunnel testing for the X2 program, the DARPA wind tunnel test effort for the HSRTT program, the Blackhawk program, and more. Bartz earned a B.S. in Aerospace Engineering and a minor in Business Administration.
Interview with Emily Bartz
Amy Sailor: What inspired you to pursue a STEM Career?
Emily Bartz: I've always been interested in how things worked.  I was one of those kids who always asked how and why— specifically as it relates to the aviation industry.  I used to lay out on the grass at my parents' house and watch the planes fly by, fascinated by just how they did it.  I knew from a young age that I wanted to work in aviation, and I never looked back. 
Amy Sailor: How has your role as the Aerodynamics Lead for the Blackhawk program shaped you as an individual?
Emily Bartz: Becoming the Aerodynamics lead for the Blackhawk program was my first full-time position with Sikorsky. In that role, I learned more about our products and came into my own using the engineering principles I had learned in school.  This gave me the confidence to pursue an opportunity in Propulsion Design for the VH-3D Executive Helicopter program, which is where I was able to learn the design process and what it really takes to bring something from paper to reality.  Becoming an engineer has changed me in many ways. The most significant is that it has affected how I think through a problem, taking into account various scenarios, challenges, and ways to overcome them with action.  From this design role, I've chased new opportunities to oversee designs and tests for full systems, coordinating the technical teams necessary to make these feats happen.  All of it I owe to my starting position at Sikorsky where I learned to think like an engineer. 
Amy Sailor: What do you think is the most important aspect when working as a team?  Any experiences in particular?
Emily Bartz: I've found that in working as a team, the most important part is that everyone has the same vision for the collective goal: what it is and why we want to reach it.  Without that context, all efforts are scattered and there is a lack of unity in the final product as a result.
Amy Sailor: How has your career shaped your views about inspiring young women in the Science and Engineering fields? 
Emily Bartz: I know that my generation has seen the most women in science and engineering fields, but we can absolutely do better.   There are still many times where I am the only female engineer in the room.  Only a couple of times early on in my career has this ever been an issue, but I see it as an area in which all STEM companies can continue to grow.  I love working with younger women to get them engaged in STEM, whether that is through our annual event Camp Sikorsky, or through personal mentoring.  I think that the STEM community will benefit highly from having the female perspective heard loud and clear.
Amy Sailor: Tell me a little about other projects you are working on?
Emily Bartz: Within Sikorsky, I have helped the past 6 years with Camp Sikorsky, an event I am very passionate about.  This event started as a Boy Scout only event and slowly has added the Girl Scouts to it.  I attended the event as one of 15 girls back in 2006.  Now, we have a 50/50 split between the Boy Scouts and Girl Scouts.  I use this event every year as an opportunity to engage the girls to encourage any interest in STEM.  Outside of work, I am also a certified Krav Maga (self-defense) instructor and teach several times per week.  I teach women-only classes and seminars in order to give them the confidence to walk in peace.
Amy Sailor: How has the COVID-19 pandemic impacted your work? 
Emily Bartz: My whole team is working from home at this time. I work on international proposals for the S-70i helicopter platform, so a great deal of our contact with our customers and suppliers has been severely impacted.  We continue to work in order to provide our customers with the highest quality proposals and helicopters possible, but there have been challenges.  We've found that keeping in touch as often as possible with our domestic and international partners via Skype has been integral to our team's success.
Amy Sailor: Is there anything else you would like our audience to know?
Emily Bartz: In addition to my work with Girl Scouts and STEM programs, like Camp Sikorsky, I also run a personal financial coaching business to help those who need it find financial stability and independence and volunteer as the Volunteer Coordinator for the Stratford Animal Rescue Society, where I have been a volunteer since 2014.  
Stay connected! Be sure to subscribe to Down to a Science— The Official Blog of the Connecticut Science Center and follow us on social media.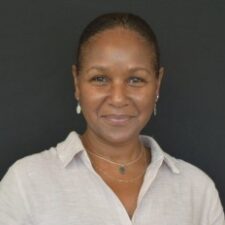 Amy Sailor serves as the Advancement Program Manager for the Connecticut Science Center. In this role, she stewards the 14 members Steering Committee of the Women in Science Initiative. Amy also implements a suite of programs and events that bring attention to the accomplishments of women in the sciences and introduces girls and young women to STEM fields of study and career paths.