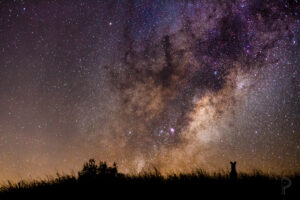 When we're asked to make observations of nature, sometimes it feels like a quiz.  What am I supposed to be seeing?  If you go out stargazing, you might be pressured to find and name all the constellations, and recognizing constellations can feel equivalent to saying "I see a kangaroo in the clouds!"  I'll admit—I don't know my constellations.  They seem so arbitrary.  Figures like Orion and Cassiopeia are just faded remnants of bygone Greek lore.  So what's the big deal with this night sky Rorschach test?  What's to see up there anyway?  We are usually quite content to go about our business evening after evening barely ever glancing above the horizon.  But every once in a while, you catch a view of the sky that stops you in your tracks.
For me, it was during a cold, clear night before Thanksgiving.  I was heading to my in-laws' house in the mountains on the outskirts of Woodstock, New York.  My car crawled up the steep gradient of the gravelly backroads, and darkness swallowed up the cone of light from the headlights.   Choruses of chirping crickets and croaking frogs drowned out the rumble of the engine.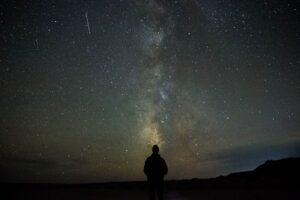 It was as I was sleepily fumbling for my luggage at the top of the mountain that my eyes wandered upwards and were flooded by starlight more vivid than I could remember.  My spine straightened, and all of a sudden the noise of thoughts in my head calmly receded.  I just stood there, hypnotized, seeing not any one particular labeled collection of stars, but all of them together.  I didn't need to fiddle with the focus of binoculars or download a star map app (there isn't any cell phone service up there anyway).  It was gloriously low-tech stargazing.
A "stargazing trip" might conjure up the image of parents schlepping an intricate telescope around, cajoling the kids to squint through an eyepiece at the F-star XYZ123.  I prefer the image in The Lion King of Simba, Timon, and Pumbaa lying together on the grass, each taking turns sharing what the stars mean to them.  What we see in the night sky—whether it's gods and monsters tussling on a celestial plane or "fireflies that got stuck up on that big bluish black thing"—is a reflection of what we imagine the cosmos to be.  Stargazing is about appreciating and contemplating the grandest expanse in nature there is.  It is this simple act that inspired many of civilization's creation myths and spurred humanity's millennia-long quest to understand the Universe.
So let's say you've never had a proper stargazing trip and want to give it a shot.  Perhaps you want to bring along the kids to give them some fresh air.  Here's my advice: pick a clear night.  Leave the fact sheets, constellation charts, and equipment behind for now and venture out to an open patch of land far from lights and noise.  Lie back.  Get comfortable.  Gaze.  As for the kids, ask them questions, and just listen to their answers: how many stars do you think are up there?  How far away are they?  And yes, what shapes do you see them making?  Maybe those three stars in a line form a lightsaber in the constellation Obi-Wan, or a unicorn horn in the constellation Twilight Sparkle.
Give yourselves the freedom to wonder.  Make your very first stargazing trip your own.
Want to stargaze but can't venture out?  Try "virtual stargazing" at home with the free program Stellarium: https://stellarium-web.org/  You can see an accurate simulation of the sky at any time and place, along with a visual guide for all the visible celestial objects.
Stay connected! Be sure to subscribe to Down to a Science— The Official Blog of the Connecticut Science Center and follow us on social media.

Nick Villagra is a STEM Educator at the Connecticut Science Center, responsible for developing and delivering science experiences, including classroom lab programs, stage shows, and vacation camps. Nick holds a Bachelor's of Science in Engineering from Swarthmore College. and has been a speaker at the New England Museum Association conference. Always looking to put a unique stamp on the Science Center's offerings, Nick enjoys incorporating custom-designed 3D printed materials for students to interact with.