It's been one week since we started the #21DayEarthChallenge and I am in it to win it.
Day One: It's not as if there were no mugs in my cupboards, and that fact has gnawed at me. Why has it been so difficult to open a door, take out a mug, and carry it when I leave for work?
From researching habit formation, I learned that preparation matters if a person wants to be successful at reaching her goals. Swapping disposable cups for a reusable container does not seem to need as much preparation as making a dramatic dietary shift. Knowing myself, I had to not get stuck in a research pit either. Seeking the absolutely perfect sustainable vessel could turn into a never ending quest for information; basically, I would be procrastinating on taking action.
To keep it simple, my prep would mean using what I already had. The night before beginning this challenge, I rounded up a tall, narrow mug that had been collecting dust. This should have been straightforward, but much like washing machines eat socks, kitchens have a way of hiding lids. An unexpected side effect was that my junk drawer got re-organized.
With my newly cleaned ceramic travel mug, I stopped at one of the four coffee shops that I walk by on my way to work. It was not until standing in line that I realized I had no idea of the mug's volume capacity. Not wanting to think too hard on this, I kept my order basic — coffee — and handed the barista my mug, hoping for the best. No size preference was discussed. That went smoother than expected. Smoother, that is, until the cup was back in my hands and I remembered the warning stamped on the bottom: do not use without the silicone sleeve. Instead of grabbing a cardboard sleeve, I opted to sit and relax for a few minutes, letting everything cool down.
Speaking of temperature fluctuations, climate change is no longer relegated to textbooks and classroom discussion. It's front and center, popping up at dinner parties even, but not in a way that socially isolates the person leading that conversation. Ask me how I know.
"The Life of Trash" found in the Connecticut Science Center's new permanent exhibit, "Our Changing Earth" shows what the disposal part of the materials economy looks like. Here, I learned that every year Americans use 50 billion water bottles, which can remain in landfills for 450 years before decomposing. Not all plastic even finds its way to the landfill. It's invasive. During the Source to Sea Cleanup in September, volunteers pulled sports drink and water bottles, along with countless airplane bottles, out of the Connecticut River and its banks. Much of the plastic that ends up in our oceans winds up there after traveling down river. Even if I place an empty cup in a trash can, it's possible for it to find its way somewhere it should not. Believe it or not, I have seen squirrels throw litter around while foraging in public garbage cans. This information is hard to accept as someone who loves the sea as much as she loves her lattes. My one cup is not solely responsible for the nearly 9 million tons of plastic that goes into the oceans annually, but it contributes to the problem. For me, these stark images of plastic's longevity have helped to remind me each morning to grab my mug.
How has the challenge been going? On the second day, in a rush to get out the door, I could not find the silicone sleeve for my ceramic mug, so I grabbed a scratched and dented metal tumbler. It looks like it was dropped off a cliff. The important thing is that it's insulated, keeping my mocha hot and my fingers not.
The rest of the week was uneventful. After figuring out that the busted up metal tumbler was also tricky for baristas to pour into, I returned the bottle to its rightful owner and scrounged up a wide-mouthed mug with a lid.
Seven days in a row of remembering to do something feels like an accomplishment. Previous attempts at kicking disposable cups fell flat. I think it has helped to tell others what I'm doing, and because I am writing about this as part of my job, I am much more conscientious about following through than if this were only for myself.
What kind of progress are you making? Let us know by tagging us on your social, and don't forget the #21DayEarthChallenge hashtag!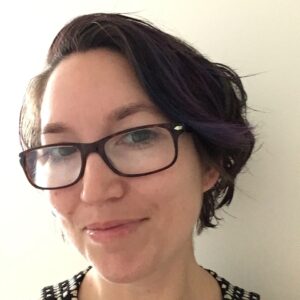 Kerri Provost is a Communications Research Associate at the Connecticut Science Center who is outdoors whenever possible. She has an interest in fluvial geomorphology and is currently attempting to walk every block of Hartford. She is the co-producer of the Going/Steady podcast.