Gingerbread house making- a classic activity for many families over the holidays. This year, we decided to hold a contest with a Science Center twist on this classic passtime. The rules- make the best gingerbread house you can, the twist- use only upcycled and recycled materials in your build. Participants began to build in unique ways we could have never imagined
Family Project – Kristy Diaz- Snow Day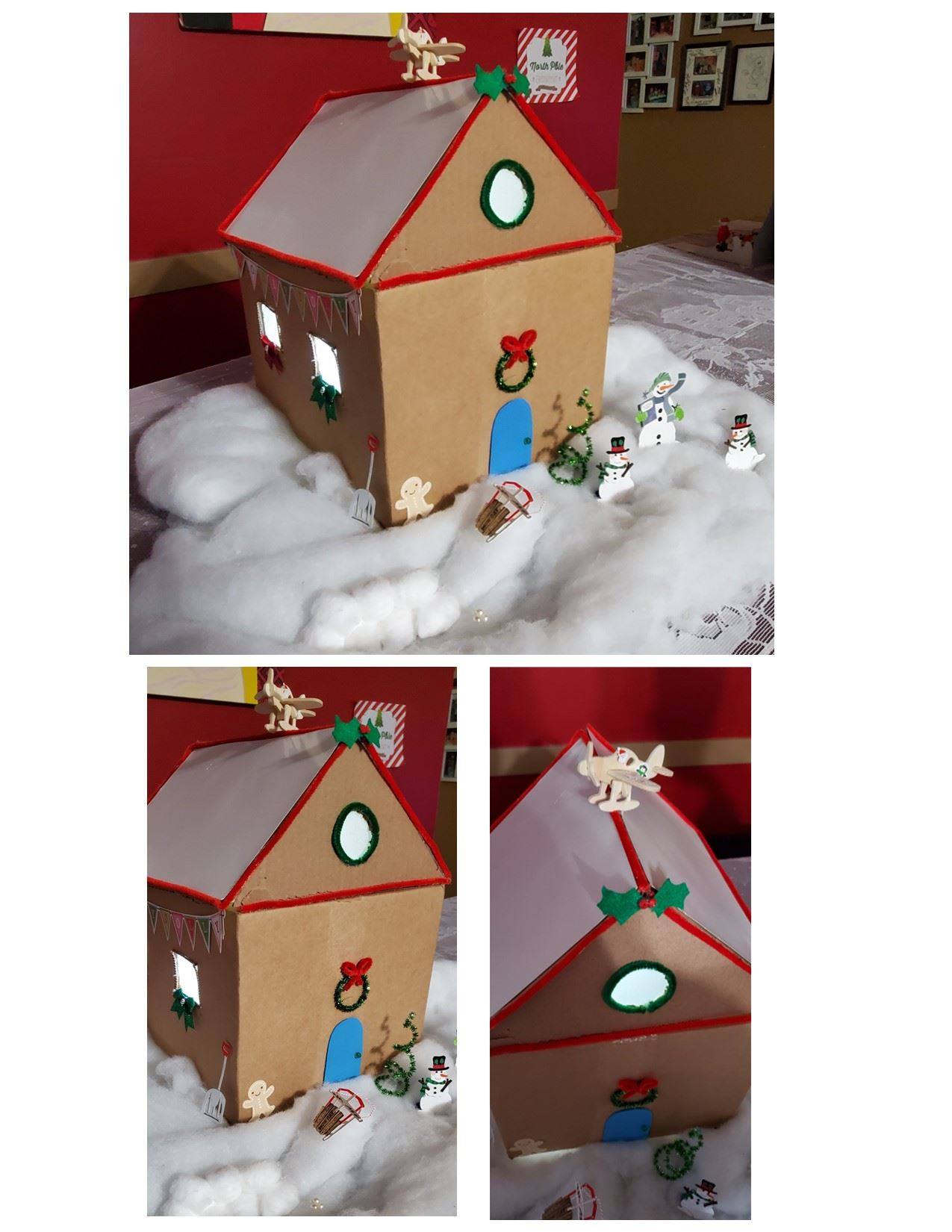 Cardboard, cotton & cotton balls, pipe cleaners, felt, wooden 3d plane puzzle, beads, ribbons, bows, foam, scrapbook paper & stickers, flashlight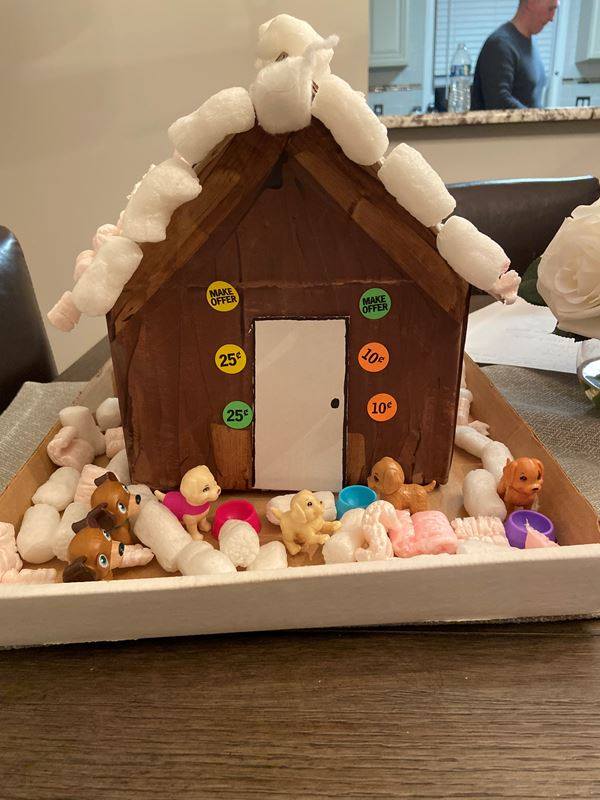 Cardboard, tag sale stickers, styrofoam popcorn from packages, box tops, pups from a tag sale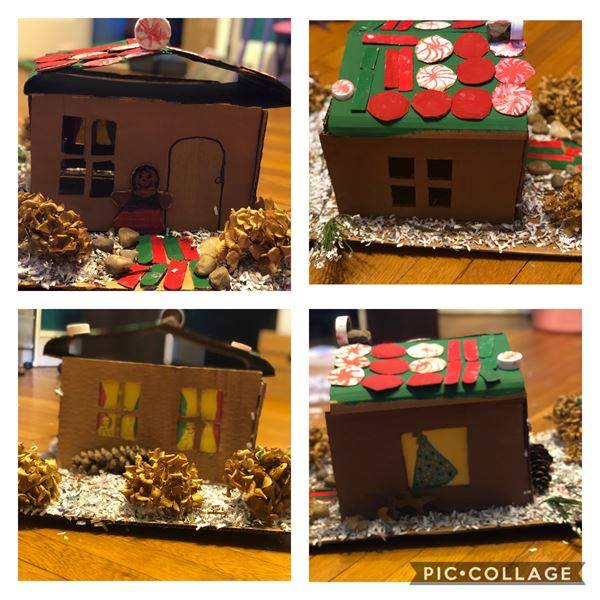 I used leftover cardboard box, popsicles sticks, rocks, tree branches, leaves, pine cones, bottle caps, and shredded paper. I also used crumpled construction paper.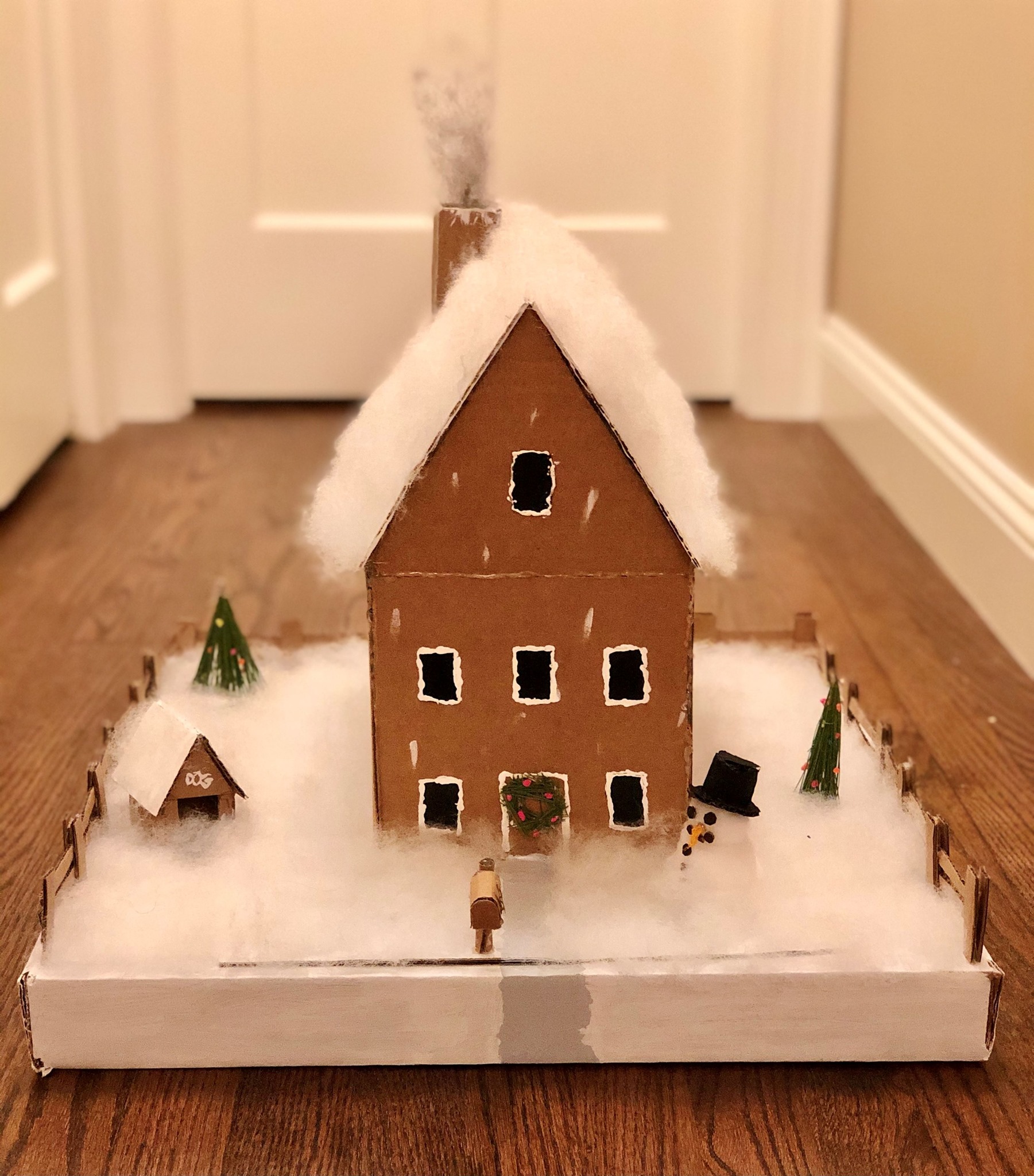 Cardboard, glue, recycled and recyclable polyfill, cotton balls, paint, pine needles, rocks, and my imagination. (I posted another but this one's the official one, the photos on the other one didn't come out the way I would've liked it to)

This amazing 8 foot tall sculpture was created from all the leftover cardboard from miscellaneous tool shipments to MakerspaceCT. The materials used include cardboard corrugated sheet, leftover acrylic tubing, cut-offs of LED strip lights, scrap plywood. We recently had the opportunity to sit down with Mark Colbert of Makerspace CT to ask him about this project.
What inspired the design of the Holiday House O' Tools?
The inspiration here is simple – MakerspaceCT always has tons of cardboard from tools, supplies and member's projects. Our shop staff is constantly tasked with cardboard recycling duty. The Holiday House-O-Tools saved the staff a week of dumpster runs and allowed the upcycle of these materials to form something unique and fun.
Can you explain the process of creating this piece? What was the most fun part of this process?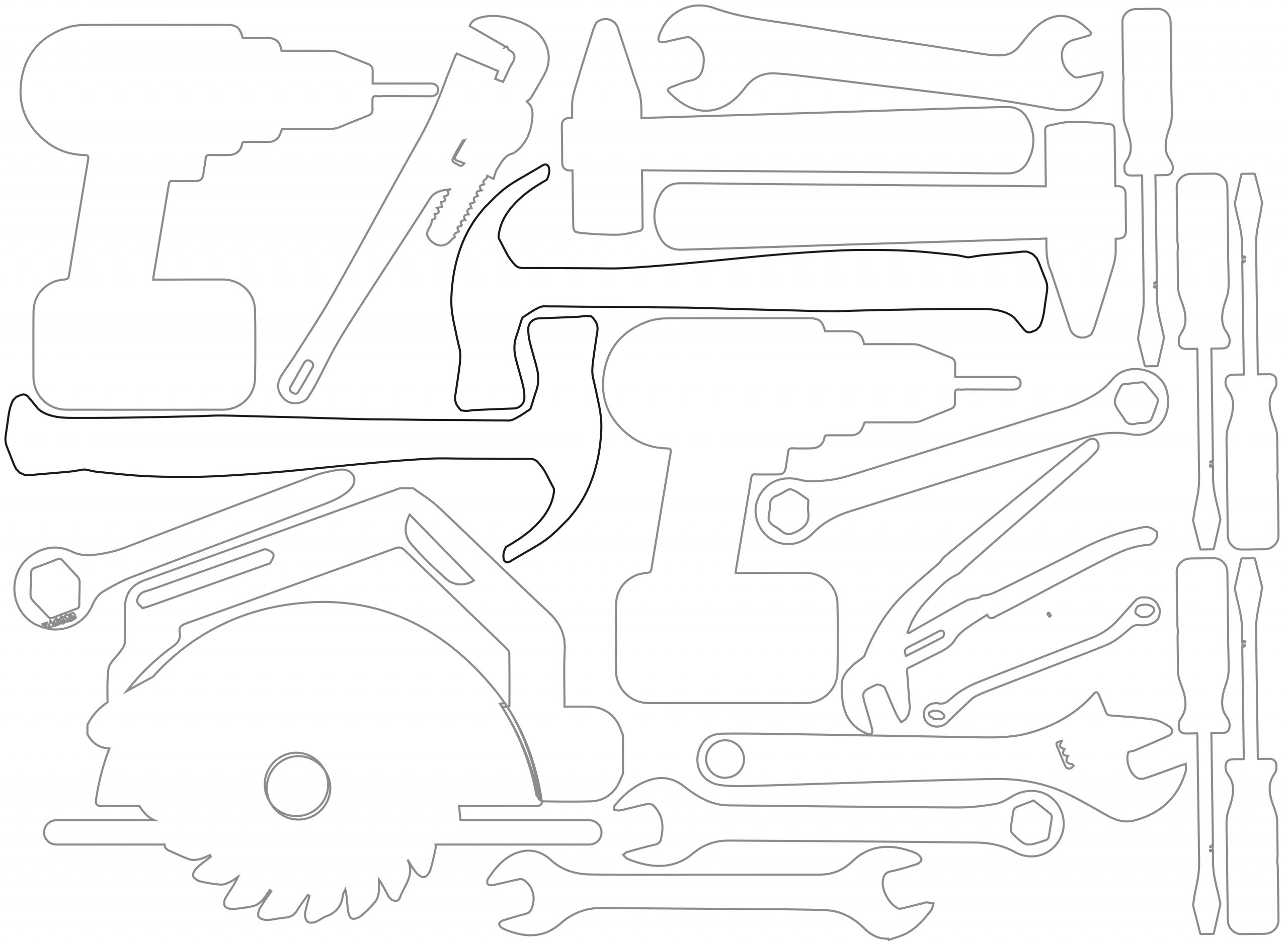 We scanned imagery of random Stanley Black & Decker hand and power tools, converted those in Adobe Illustrator to vector art, nested and scaled those into DXF, flat art files.  Next, we sent the files to our 80 watt laser cutter and cut hundreds of these tools from the cardboard sheet stock. The square base made in the woodshop, the clear acrylic supports were scavenged from the plastics shop, and the LED lighting cut to size and soldered up in the Electronics lab. All the materials, from plywood to lighting was all headed for the trash anyhow – so why not incorporate all this into this creation.
What is new at Makerspace CT? What can everyone look forward to from you in 2021?
For 2021 – MakerspaceCT aims to focus on workforce development, and provide a wide variety of class opportunities for youth and adults. Since we opened, we have always been a destination for people to come and innovate, but now, we are focused on workforce development. Our offerings touch on the training that's need to get the Hartford community those skills manufacturers are looking for. For our Hartford area youth, we are now offering innovative classes in Computer Aided Design and 3D printing. 
What do you enjoy most about making?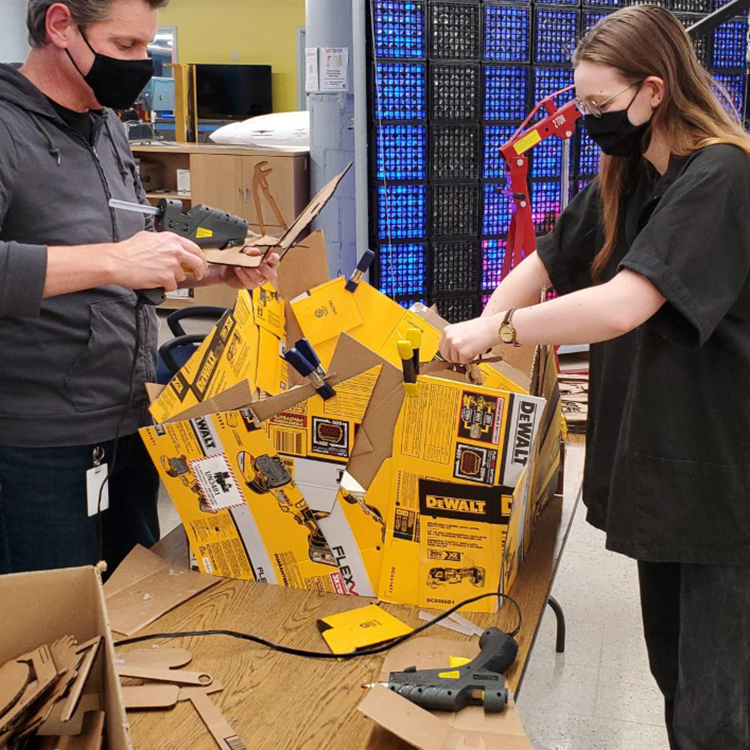 MakerspaceCT administration, staff, members, and students are all from some sort of "making" background. The best part of being part of this community is to see the open sharing of ideas and processes come together. Interacting with like minded makers is what we're all about and it's satisfying to hurdle past failed experiments and cross the line, not in first place, rather with a more, educated finish.
Why do you feel it is so important for kids and adults to get into making?
We have partnered with ReadyCT to provide internship opportunities in our facility. And we'll have 8 weeks of Summer STEM enrichment to keep minds active when out of school.  We aim to inspire our youth with engineering and hands-on, project based learning. This inspiration sparks new ideas and they can now cross that bridge from youth to adult learning, all under one roof at MakerspaceCT. 
 What is the best way for someone interested to get started?
For adults 18 and up our current classes in Woodshop, Welding, Plastics Technology, Blacksmithing, CNC operation, Sewing and Additive manufacturing are posted at:  makerspacect/learn
For Hartford Public High School Students We are offering FREE innovation classes on Saturdays: makerspacect.com/youthcad
For youth our Summer STEM programs will be up soon at: makerspacect.com/summerstem 
(check back often – as new programs are being offered weekly)
​Is there anything else you would like to add about Makerspace CT or this Upcycled Gingerbread Contest?
Well, as the MakerspaceCT community knows – we are accustomed to out-of-the-ordinary, stand-out, projects that lead a team towards a projected goal.  
What's better sometimes, is to NOT have a sketch, blueprint or plan…and let a project run and organically come together. What we thought would become some sort of house structure, turned more into a skyscraper. With the opening of our doors each morning, it was fun to see what members added the night before, finally resulting in this 8 foot tall structure with some lighting for holiday spirit. 
It may be just what the "maker-doctor" ordered to brighten everyone's spirit in these strange times and we'd like to thank CT Science Center for inviting us to participate !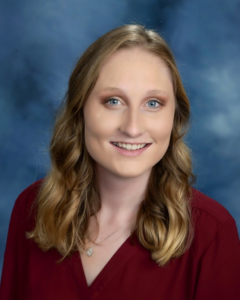 Katelyn Rutty is the Communications Coordinator at the Connecticut Science Center where she manages all of the online content platforms. She has a Masters in Business Administration from Western New England University.