Materials to Collect

Hairdryer

Ping pong ball

Leaf blower

Beach ball
Try it Out
Turn on your hair dryer and point it so the stream of air moves upward.

Have someone gently place the ping pong ball in the air above the hair dryer.

Try the same thing with a leaf blower and a beach ball!
What is the Science?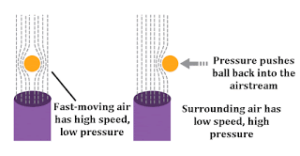 Fast moving air has a lower pressure than air that is still. The stream of air from your hair dryer or leaf blower is a lower pressure area, surrounded by a zone of high pressure air. The high pressure air all around the stream of air keeps the ball trapped in the stream of lower pressure (fast moving) air. This is called lift, and it is the exact same principle that helps keep airplanes in the sky! This force can be strong enough to overcome the force of gravity and stop your ping pong ball or beach ball from dropping down to the floor. 
Ask Your Young Scientists
What do you think is causing the ball to hover in the air?

What do you think would happen if we use a lower setting on the hair dryer? What about a higher setting?

What do you think would happen if we use a heavier ball? What about something that isn't spherical and smooth like a ping pong ball? 

What if we used more than one ping pong ball?
More to Explore
What happens if you hold a paper towel tube opening over the ping pong ball and move the tube downwards toward the hair dryer like you are trying to catch the ball in the tube?

Make a mini Bernoulli blower by blowing through a straw pointed straight up to the ceiling or sky. Have a fellow scientist carefully place a ping pong ball in the stream of air you are creating.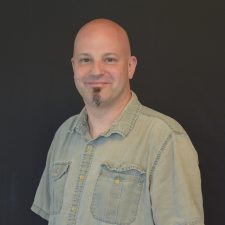 Andrew Fotta is a STEM educator at the Connecticut Science Center. He has currently holds a CT teaching certification for grades K-6, and has spent time in the classroom in nearly all grades, and taught middle school science. In addition to teaching classes for the Science Center, Andrew is also part of a team of educators currently creating new programs aligned with the new Next Generation Science Standards for grades PreK-9. Andrew is an avid photographer, who enjoys blending science and art in his work.

Nick Villagra is a STEM Educator at the Connecticut Science Center, responsible for developing and delivering science experiences, including classroom lab programs, stage shows, and vacation camps. Nick holds a Bachelor's of Science in Engineering from Swarthmore College. and has been a speaker at the New England Museum Association conference. Always looking to put a unique stamp on the Science Center's offerings, Nick enjoys incorporating custom-designed 3D printed materials for students to interact with.