Kids are in school for only a quarter of their day, and only a small portion of that time is devoted to Science and STEM related learning, particularly in the early grades. But it is clear that the skills needed for our evolving workforce are increasingly STEM related. Out of school time learning is crucial to building our next generation of leaders, so how can we leverage this time in the best interests of students?
After School Programs
Programs that offer students the opportunity to further their science thinking during out of school time, particularly programs that are grounded in the principles of youth development and that complement the learning that is taking place in schools, have been shown to increase enrollment and interest in STEM-related school courses. In addition they provide students with increased confidence in their approach to science classes and projects. Finally they can provide students with the needed 21st century skills, including communication, teamwork and critical thinking that are needed to thrive in today's STEM careers. For more information on an afterschool program near you https://naaweb.org/ or the Connecticut After School Network. We also offer training on incorporating science into your existing program and making connections to school time learning. And if you are looking for information on setting up your own STEM or Science based after school program this guide may help.
Citizen Science
Citizen Science engages young people in authentic scientific research and there are opportunities for almost every interest and age! Engaging in research projects can help to support the Science and Engineering Practices that students are utilizing in school and allow them to see how these practices can be used in the real-world. These skills can be used either online and in-person during research projects with varying levels of time commitment. Brainstorm you and your students' interests and then search one of the databases for a project that matches. This can be a great way to get involved with your students and kids and show them, it doesn't matter your age, you can always find something new or interesting in science. Check out https://scistarter.org/education or https://www.zooniverse.org/ for more information. 
Museums and Science Centers
Museums and science centers offer young people the opportunity to explore their interests outside of the classroom in a focused environment. Many museums and science centers, including the Connecticut Science Center, are aligning their guides and content with the Next Generation Science Standards to support what students are doing in the classroom with their outside experiences. Young people ground and expand their learning through experiences and museums and science centers are a great way to gain those experiences. Some experiences to look for include camps, stage shows, family programming, birthday parties, and more. For more information about visiting the Connecticut Science Center or programs that we offer visit our website: https://ctsciencecenter.org/ 
Whether you're kids are a "STEMIE" or prefer to spend their time playing games or sports, STEM learning outside of the school day plays a large role in preparing our youth for the 21st century. It is important to remember to work in these opportunities, no matter your child's preference or schedule. Get creative, you never know what might be their "aha" moment. And remember science is truly all around us!
This content was made possible in part by the Institute of Museum and Library Services.
Thank you for taking the time to read this blog post! The team at the Mandell Academy is here to support your needs, and are always happy to share what we find with you. For more resources, join our Educator Hub on Facebook and search our Professional Learning opportunities on our website.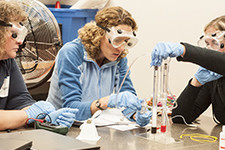 Becky Fahey is a Professional Development Specialist at the Connecticut Science Center's Mandell Academy for Teachers. Previously, she has worked as a preK-3 educator in various public school districts in Eastern Connecticut where she designed and implemented inquiry based lessons in the classroom. Becky brings with her expertise in collaboration and inquiry based teaching and will apply these skills to help educators to deepen their understanding of NGSS and apply best practices to support their learners in the classroom.