Before we jump into our virtual field trip all about computing, we need to be on the same page about what a computer is and how it works. Check out this quick video from code.org that will give you all the background you need to start your field trip! 
Let's Talk History: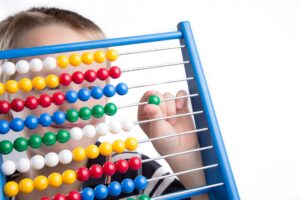 The earliest recognized computing device was, believe it or not, the abacus, which was invented around 2500BCE in Mesopotamia. What makes this a computing device? Well, it was the world's first calculator; it could add and subtract multiple numbers and help you remember where you left off. You didn't have to do the math in your head and your answer was stored… as long as no one shook your abacus… This invention made it much easier to work with large numbers and was the first step in our computing journey. 
We can trace the word computer all the way back to a book from 1613 by Richard Braithwait. However, he used the term to describe a person who did calculations, or lots of math, rather than the electronic devices we think of today. The term didn't become associated with devices until the late 1800's, and people were sometimes called computers as late as the 1970's. The meaning of the word computer became synonymous with a device instead of a person as they became more common in colleges, universities, and workplaces. Eventually they made their way into our homes, and we can hardly imagine life without them. 
Places & Things:
When it comes to the parts that make up computers, we are really talking about two different aspects of a computer- the hardware, like motherboards, processors, monitors, and keyboards; and the software, that's the stuff we can't touch like the operating system, programs you've loaded, and all the coding that lets you do the things you love to do on your devices. Computers have become faster, smaller, and more efficient thanks to innovations in both of these areas. 
Okay friends, let's hop on the virtual school bus and kick this tour off with a trip across the pond to Bletchley Park in the UK, home to top-secret World War I & II codebreakers like Alan Turing. It is also the home of the National Museum of Computing where you can take a 3D tour of the artifacts on exhibit. Be glad you don't have to carry some of those relics back and forth to work or school everyday! 
When you are done visiting the National Museum of Computing, click on over to a new adventure in Mountain View, CA at the Computer History Museum. Check out their online exhibitions or take a 3D tour of the museum. You can even check out what happened today in computing history and look up what events happened on your birthday! There are also timelines to explore and lots of great artifacts.
Try This: 
Technology changes. FAST! Knowing what technologies came before the ones we currently use can help us to better understand how innovation and thinking evolves. Your task is simple: interview someone!  
Ask your parents, grandparents, and other family members what computers and calculators looked like when they were younger. You might be surprised by what they tell you. 
Ask them what their first computer looked like. They might mention that their first computer came in a cardboard box that was decorated with cow spots, or maybe it was a big boxy machine with a see-through plastic back in their favorite color. Maybe they remember using an operating system like MS-DOS that was a text based interface with no pictures and only a few colors. Perhaps they can recreate the dial-up internet tone for you or share a story about begging their family members not to pick up the phone because it would literally kick them off the internet! 
Some of your family members might remember having to use something called a sliderule. One of my teachers gave us one to try to use in a highschool engineering class once and let me tell you, they are a lot trickier to figure out than the calculators we use now! 
Think about other questions you would love to know more about and see what kinds of cool science, technology, and history you can discover!  
Activities &  Resources:
Now that your brain has downloaded a little bit of history, here are some additional resources and videos to explore that will help grow your knowledge of Computer Science and computing:
CS FIRST from Google for Education
Computer Science Education Week Coding 
CMU CS Academy– free coding classes for teens
Connecticut Science Center: Science At Play Coding Blog 
YouTube & Movies:
Code.org How Computers Work Series
SciShow: The History of the Internet
Arguably the most important thing the average person does on a computer is use the internet. It's almost hard to imagine (or remember) what our computers were like without the World Wide Web. If you are really curious about how the internet was created check out this incredibly thorough 2-part SciShow episode about that very topic. 
What's Inside the World's First Personal Computer
Lincoln & Dan from What's Inside compare features of the first mass produced IBM personal computer launched in 1981, to the Kano computer kit. They take it apart so you don't have to!
How Did NASA Steer the Saturn V?
Destin from SmarterEveryDay learns exactly what went into creating the computer system that steered the Saturn 5 rocket, and meets an engineer who worked on the project. This is a great video to watch if you want to understand exactly how interconnected computers and math really are. 
Hidden Figures
(2016, Rated PG)
It's not exactly about computers but more about the people who helped to launch the first astronauts into space and created the calculations that are now done by computers to make every launch since then possible. 
The Imitation Game
(2014, Rated PG-13)
A story about Alan Turning and his fellow codebreakers who worked to break the German Enigma code during WWII. 
The cool part about technology and computers is that they grow with us. As we learn more our computers become better, faster, and smarter. Now that you know where computers came from, what do you think they will look like and be able to do in the future?
Stay connected! Be sure to subscribe to Down to a Science— The Official Blog of the Connecticut Science Center and follow us on social media.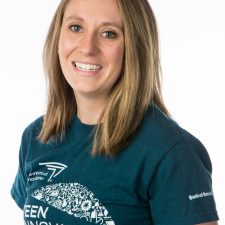 Kate Saulsbery-DeFelice graduated from Russell Sage College with a dual degree in Childhood Education and Life Sciences. She has been a STEM Educator at the Connecticut Science Center since 2014, and especially loves sparking scientific curiosity in early elementary aged students. Kate is also a FIRST Robotics Competition mentor who is passionate about technology and working alongside students to solve problems, generate new ideas, and prototype solutions. Her goal is to help everyone discover and grow their appreciation and excitement for STEM.