If you could have just one superpower, what would it be? For a lot of people, flight or invisibility would be at the top of their list. Good news for you- we humans have made the superpower of "heavier-than-air travel" a reality! Today, we are exploring the Museum of Flight in Seattle and tipping our hats to the people who made this incredible feat possible. Let's go!
Virtual Airplane Tours:
If you're interested in taking a closer look at some incredible aircraft, check out these 360° views, complete with airplane specs and a little history lesson. I highly recommend checking out these planes:
The

B-17

, a WWII era legend

The

Concord

, the first supersonic jet

The

Boeing VC-137B

, better known as the original Air Force One

Fun Fact: A secret CIA operation, code named Lida Rose, turned Air Force One into a spy plane while it was still in use. Did you know that? It's okay, President Eisenhower didn't know either and it was his plane! 
If you haven't had a chance to visit another famous institution that captures the history and science of flight, head on over to the Smithsonian National Air & Space Museum's website where you can take a Google Tour of the museum right from your couch. 
Stories from the Sky:
The Museum of Flight has compiled some of their favorite airplane facts and stories from visitors, like this one called  A Taste of Space: where an Italian visitor shares a pretty fantastic story about one of his college professors who spent some time on the International Space Station but was also a particularly picky eater. Read the full story to find out NASA's out of this world solution to this culinary challenge.  
The Technology of Flight:
For centuries we've looked to the stars longingly, wishing we could take off and see the world from a different point of view. In the 1400's, Leonardo Da Vinci dreamed up elaborate flying machines. In the 1700's, Daniel Bernoulli studied the behavior of fluids (yup, air is technically a fluid. I know, crazy right!) to discover Bernoulli's Principle. It wasn't until 1903 that the Wright brothers made the first powered aircraft flight. From there, the airline industry took off and along the way we've created some incredibly cool technology!    
Take a look at this Timeline of Flight from the Library of Congress to see how we innovated our way into the sky!  
Ever wonder why airplanes fly at such high altitudes? Check out this video:
Remember before, how I said that a lot of people would choose the superpower of flight or invisibility? When it comes to military technology, sometimes you get both! Enter the age of stealth jets, designed to fly as a ghost in the sky. You may have heard the word "stealth" when it comes to military aircraft, but what does that mean and what needs to happen to create a stealth jet?
If you've ever wondered what it would be like to fly in a fighter jet, check out these two videos from Destin at Smarter Everyday. You'll take a ride-along in a T-38, learn some of the science behind how these engineering marvels fly, and a few ways technology helps pilots stay safe when they are experiencing multiple G-forces. Then, watch Destin go supersonic in an F-16 with the U.S Air Force Thunderbirds and pull 7 G's!
Flying High With Fun Science At Home:
We would be skipping the most iconic activity if we didn't encourage you to design and fly a few paper airplanes in your quest to explore flight! 
Here are some science tips and tricks to get you thinking:
Start off by making a paper airplane and learning about the physics that keeps it in the air with Jessi & Squeaks.
For more advanced tips from the current world record holder for the farthest paper airplane flight, check this video out.
DiscoverE has plenty of great engineering activities for everyone. Use the filter on the right side of the page to find Aeronautics activities and videos for any age and interest.  
If you are looking for even more activities to do at home, check out these resources from the Museum of Flight.
Eager to learn more about Aeronautics and Flight? Check out Embry-Riddle Aeronautical University's free, self-paced online Aviation 101 course. 
For Teachers:
Check out this PBS Aerospace Engineering Collection full of interviews with engineers, history, activities, and flight science to share with your students
If you are looking for a reading to share with your students about how planes fly, check out this one from National Geographic Kids
Stay connected! Be sure to subscribe to Down to a Science— The Official Blog of the Connecticut Science Center and follow us on social media.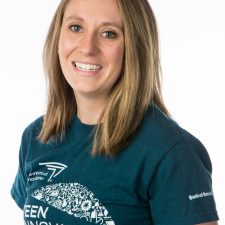 Kate Saulsbery-DeFelice graduated from Russell Sage College with a dual degree in Childhood Education and Life Sciences. She has been a STEM Educator at the Connecticut Science Center since 2014, and especially loves sparking scientific curiosity in early elementary aged students. Kate is also a FIRST Robotics Competition mentor who is passionate about technology and working alongside students to solve problems, generate new ideas, and prototype solutions. Her goal is to help everyone discover and grow their appreciation and excitement for STEM.