We get to work with STEM professionals from Connecticut and beyond through STEM Career Connections programs at the Connecticut Science Center. During these programs, employees from many CT-based companies have informal conversations with students and families, sharing why they're passionate about their work and building connections that empower and inspire future generations.
This year, we were fortunate to connect with Young Explorers in Science (YES), an organization at UConn Health Center founded by Ph.D. students. Composed of representatives from various STEM fields, ranging from marine and environmental sciences to molecular biology and biochemistry, YES is engaged in community outreach, fostering interest in STEM fields while promoting science literacy and academic confidence. Ultimately, through relationships with the educational community in Connecticut, they hope to empower students to make informed choices about pursuing science as both a passion and a career. 
Here at the Connecticut Science Center, the STEM Career Connections initiative works to fuel a diverse, innovative future workforce by building connections between students and families and real STEM professionals, sparking an interest in STEM at an early age. As such, we were so thrilled to work with such a similarly aligned outreach organization. We had the opportunity to chat with Kerry Silva McPherson, secretary of YES, who shared some of the inspiration behind YES's founding: "There is a lack of diversity in research. By reaching out to communities of diverse and underserved areas, we hope to improve the racial and socioeconomic diversity of up-and-coming scientists." 
Since its founding in 2019, YES has recruited 40 graduate students interested in speaking with young people about future STEM opportunities. "Many students at UCONN Health are passionate about science education and communication, yet there are few outlets for us to interact with students outside of the medical campus. YES is an opportunity for us to get out of our labs and interact with aspiring scientists." The Connecticut Science Center has featured YES in the Virtual STEM Career Showcase, along with our pilot run of Classroom Connections. Additionally, they have worked with our Teen Science Café.
A tremendous motivator for YES members, most of whom are young professionals, is that building connections can break down barriers for future generations of STEM professionals. "Becoming a scientist isn't easy," says Kerry, "and many young scientists benefit from having family connections. As someone who earned a BS in science with no idea of what to do with it, I now want to turn around and make sure that aspiring scientists can make informed career decisions and have contacts at UConn to help them in their career." Kerry hopes that, through meaningful conversations with real STEM professionals, students can better understand the versatility of a science degree, consider non-traditional STEM pathways, and come to develop improved science literacy. "We know that not all students will pursue science as a career. But everyone needs to have a basic understanding of science so they can make informed decisions. That's why YES leads discussions about climate change, vaccinations, COVID-19, and scientific enterprise." 
For Kerry, the most valuable part of interacting with students is seeing that they're learning something new because when people know what opportunities are available, they feel empowered. Perhaps most importantly, Kerry believes this kind of outreach is fun. "I love attending these events. It's a great way to get out of my laboratory bubble and to remind myself why I chose to become a scientist in the first place. As grad students, we present our research all the time, but at the Virtual STEM Career Showcase, our volunteers presented what they do and how and why they do it, bringing a personal element to their stories that they enjoyed sharing." 
The Connecticut Science Center has panelist openings at upcoming Virtual STEM Career Showcases and Classroom Connections programs. If you are interested in sharing your story with students and inspiring tomorrow's workforce, please contact Kelsey Rogers, STEM Career Coordinator, at krogers@ctsciencecenter.org.
STEM Career Connections is presented by The Hartford and Cognizant US Foundation, with founding support from the Mandell-Braunstein family. 
The Virtual STEM Career Showcase is presented by Stanley Black & Decker. 
Classroom Connections is presented by the Burns & McDonnell Foundation.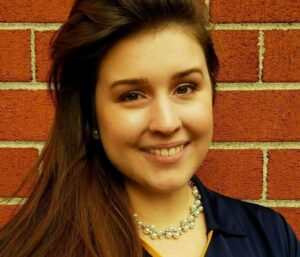 Kelsey Rogers the STEM Career Coordinator at the Connecticut Science Center. In her role, she helps build interactive learning experiences with STEM professionals and educators to inspire local youth to pursue STEM careers in their home state. She studied Biological Sciences and Psychology at the University of Connecticut and received her master's in Healthcare Administration at the University of New Haven. In her free time, she loves baking and crafting.